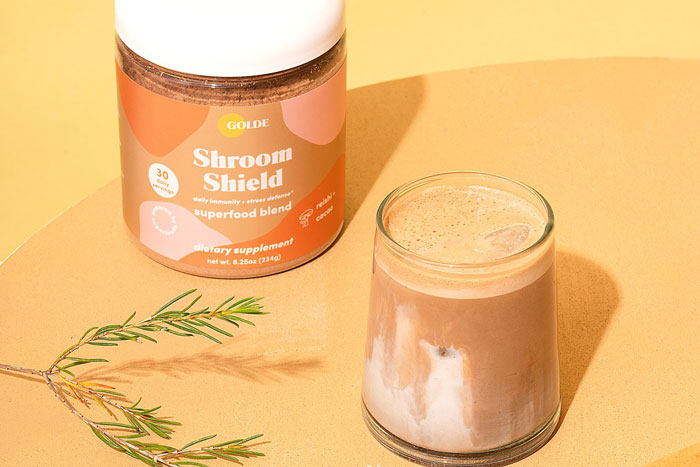 Feature Image by Golde
The health market is awash with superfood powders guaranteeing they'll supercharge your daily smoothie. A couple of quick swipes on the internet will spit out enough options to make you run back to the tried-and-true (but like, a bit overdone?) acai bowl. So, how do you choose a powder that's genuinely good for you — and, of course, tasty — without falling headlong into a superfood rabbit hole? 
We'll make some recommendations to get you started, but first, a couple of ground rules:
Your favorite Instagram wellness influencer doesn't always know all.
When you see someone who is super-fit and living our best life, it's tempting to take whatever they recommend, hand-over-fist. Sometimes that's perfectly fine! There are tons of legitimate experts sharing tips and tricks they've gained from education and experience in the wellness field. Just make sure to do your own research so that you know you're getting truly high-quality products (not just popular ones) that make you feel your best.
Look for fillers in the ingredients.
Lots of powders tout the benefits of their most super ingredients without mentioning all the useless stuff that fills in the cracks, like artificial flavors, sweeteners, preservatives, and more. Rule of thumb? Choose powders containing mostly (or all) ingredients you'd find in nature. And opt for certified organic whenever possible!
Our superfood powder recommendations: 
Mushrooms aren't just for risotto and cream of- soups anymore, folks! Although we (in the Western part of the world) may have only relatively recently seen the likes of Turkey Tail, Reishi, and dozens of others popping into our grocery stores and Instagram feeds, these fungal friends have been used in Eastern health and wellness practices for eons. 
Golde makes no-nonsense (and adorable) superfood powders to give you a healthy glow from the inside out (literally). We love Shroom Shield for its antioxidant-packed, immune-boosting power. Mix into milk, coffee, or a rich, restorative cacao smoothie.
---
Ah, good ol' matcha. It's versatile. It's deliciously earthy. It's an antioxidant superhero. This isn't the first time we've celebrated this intensely great-for-you green tea — and for good reason! In all its glorious simplicity, high-quality matcha powder can add a huge nutritional kick to any smoothie. (Mango-avocado-ginger-matcha, anyone?
---
We could write 1,000 words on the benefits of spirulina. Just a tablespoon of spirulina will not only give your smoothies that quintessential "health green" color, but it'll also provide a punchy percentage of B-vitamins, copper, protein, iron, omega-6s, omega-3s, and more!
---
Although it boasts plenty of benefits for the body, maca is most well-known for its mood-boosting capabilities (and for being just a little bit…saucy). Maca has a slightly sweet, strongly nutty taste, so it's best to mix it into smoothies with a similar flavor profile, like turmeric or cold brew. 
---
The star of the camu camu show is undoubtedly its vitamin C concentration. Proper vitamin C intake is important for immune function, collagen production, and fighting free radicals in the body. Studies have shown that this Amazonian superfruit is more effective at allaying oxidative stress than vitamin C alone! 
Camu camu also supports a healthy heart via its anti-inflammatory polyphenols, contains several essential amino acids (which assist in muscle and bone development and recovery, cognitive function, and more), and is showing promise in preliminary studies for preventing obesity. 
As for flavor, camu camu is quite sour, like heavily concentrated blueberries, so it'll taste best mixed into berry-based smoothies.
xx, the FabFitFun Team