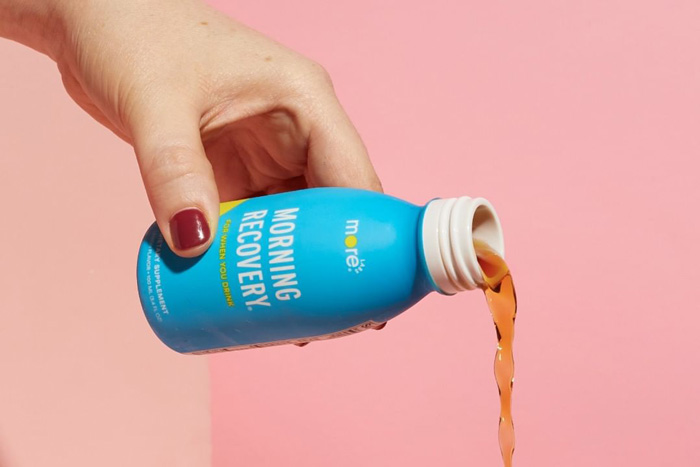 Feature Image by Morning Recovery
SPONSORED BY MORNING RECOVERY
We've all been there: you have an amazing time drinking, eating, and dancing the night away at a holiday party, but then you wake up the day after feeling, well, not so great. So the next time you go out for a couple of drinks, follow the five tips below to lessen the severity of your morning-after headache and fatigue.
Nourish your body
The best way to avoid the dreaded morning-after struggle? Treat your body with the nutrients it needs both before and after drinking. We like to drink Morning Recovery, which is a wellness shot that helps break down alcohol-induced toxins, replenish lost nutrients, boost liver function, and speed up your recovery. P.S. If you're a FabFitFun member, you can snag Morning Recovery in Winter Add-Ons when you purchase the Chic & Tonic x Morning Recovery Bundle, which includes four detox shots and an iridescent bangle flask.
Avoid sugar
While every holiday festivity involves sweet treats, you should try to be cautious of the amount of sugar you're consuming. Both sugar and alcohol cause dehydration, therefore, sugar and alcoholic drinks combined can produce more severe symptoms the next day.
Hydrate, hydrate, hydrate
Yes, we had to say it three times because it's that important. Although dehydration is not considered the main cause of a rough morning, it contributes to symptoms like headaches and fatigue. So try drinking one glass of water between every alcoholic drink, and drink another large glass right before bed.
Eat nutritious food
When you drink on an empty stomach, the alcohol is absorbed more quickly into the small intestine and bloodstream. This intensifies the side effects of drinking and can ultimately cause worse aches the next morning. It's also important to recover with a healthy, hearty breakfast or a late-night meal after drinking to help you maintain your blood sugar levels.
Get enough sleep
Of course, all of the fun and excitement of a holiday party can lead to a late night out. However, alcohol can greatly interfere with the quality and duration of your sleep, which means worsened symptoms like fatigue and irritability. Do your best to keep track of time and hit the hay at a decent hour and sleep in a little longer the next morning.
xx, The FabFitFun Team