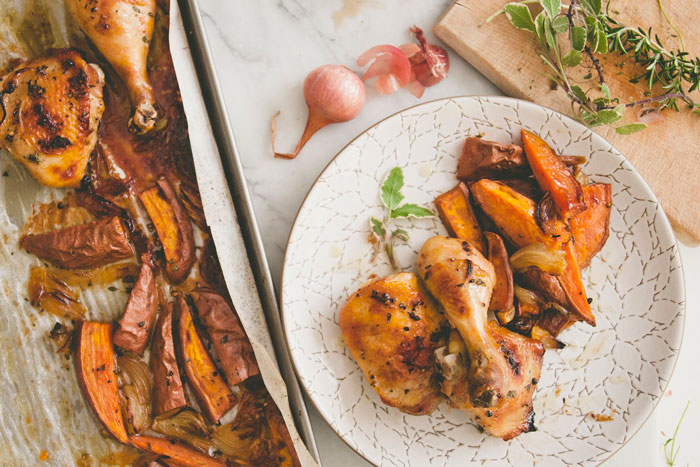 SUMMER 2018 FABFITFUNTV PARTNER
It's not every day we come across recipes that check off health, taste, and presentation (#foodporn, anyone?). Well, Claire Thomas, blogger (The Kitchy Kitchen) and TV host on ABC's Food for Thought With Claire Thomas, took her background in food styling, writing, and photography to launch a lifestyle blog with recipes that hit the trifecta.
From a hearty cauliflower appetizer to a time-saving one-pan chicken and summer-ready peach dessert, you can whip up a mean full-course meal with Thomas on FabFitFunTV now (sign up today to get cookin'!)
Meanwhile, read on to learn how the food blogger finds the time to cook on a busy schedule, five ingredients she always has stocked in her fridge, and the life-changing kitchen item she swears by.
Where do you find inspiration to create new and original recipes?
Through eating! I love exploring and tasting new things to find inspiration for flavor profiles and recipes.
What has been your favorite meal to cook as of late?
I've been joking with friends that everyone is either a pasta person or a pizza person. You can appreciate both but only one has your heart. I'm a pasta person, and I love how easy it is to create a delicious, fresh meal in under 20 minutes. I'll brown some butter, throw in whatever is fresh and tender from the farmers market, and finish off the bowl with plenty of parm.
Any advice for working women who can't find time to cook?
I get it — I work in food and still can't find time to cook. Prep has become a great way for me to create shortcuts later in the week. For instance, if I'm making something like lasagna or a bake, sometimes I'll make an extra one just for the freezer so I always have something in a pinch. I do the same with sauces and soups — I make extra and freeze it for later.
What are five ingredients you always have in your fridge/pantry?
Butter, eggs, milk, olive oil, and lemons.
What kitchen item is worth investing in?
If you love baking, a heavy duty mixer can be life-changing. I also love my food processor.
Any tips on how to find quality ingredients at the most competitive price?
For bulk items I always compare prices online — you can find really inexpensive staples, like vanilla beans, if you spend a little bit more time searching for the best price.
Why should members try out your cooking videos?
I'm all about delicious, beautiful food that's secretly easy to make. I have a full-time job and a kid, so I don't have time to fuss over things or spend an entire afternoon making something. I need the food I make to be easy to whip together that tastes as good as it looks.
xx, The FabFitFun Team