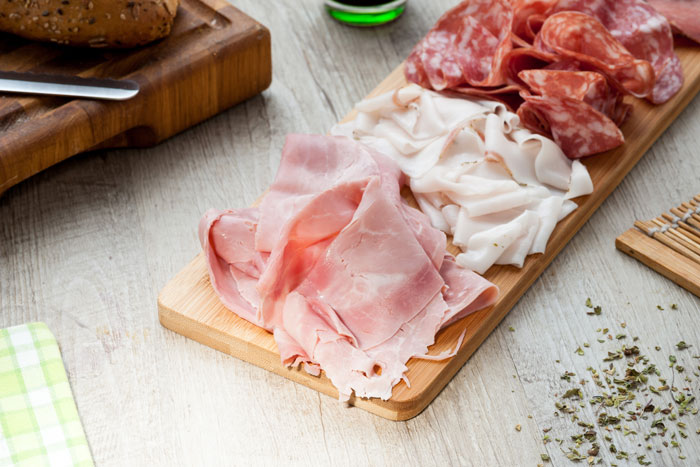 We all look to nutritionists for advice on how to eat healthily, so if there are foods they don't want to touch, it's worth our attention. Of course, everyone has their own dietary needs and different tastes, but if health is your goal, there are certain foods you might not want to eat too regularly.
Here are five foods that nutritionists like to avoid.
Deli meats
"Processed and deli meats are linked to esophageal and colorectal cancers," says Monica Auslander Moreno, M.S., R.D., LD/N, nutrition consultant for RSP Nutrition."And while a July 4th hot dog won't reserve me a slot in the cardiac ICU, I try to avoid these meats. They're also a foodborne illness risk for listeria. Instead of deli meats, opt for tuna or chicken salad if presented with a 'deli' meal."
Diet foods
Willow Jarosh M.S., R.D., founder of Willow Jarosh Nutrition and Health-Ade nutritionist, avoids any diet foods, especially when the packaging uses words like 'guilt,' 'cheat,' 'skinny,' etc. "The words we use, as well as those said to us and that we read, all go into forming our relationships with our bodies and the food we eat," she says. "For me, see packaging that incorporates dieting messaging puts that message into my eating experience, and that can be very unhealthy for the relationship with food and body."
Additionally, she avoids lower-calorie versions of foods that promote themselves as skinnier or leaner. "This type of marketing [and] these types of products promote turning off your hunger/fullness and pleasure cues," says Jarosh. "I prefer to have enough of something that sounds really good to me, and brings me joy when eating, to leave me satisfied."
Margarine
Despite what may have been in the past, margarine is out and butter is in. "Margarine is trans fat city, and trans fats are linked to various cardiometabolic risk factors," says Moreno. "I'd rather have grass-fed butter or ghee with their higher omega-3 content, vitamin D, and natural origins (margarine is man-made) any day."
Calorie portioned snacks
"This isn't a hard and fast rule, but I know my body well enough to know that the exact same portion of food isn't always going to satisfy me — my appetite changes from day to day and even meal to meal," says Jarosh. "I also know from exploring my appetite that I need to pair these pre-portioned packages with a few other items in order to feel satisfied." It's not that Jarosh would skip over a 100-calorie package of almonds altogether, but she would just add a few other things to it to create a satisfying snack.
Chewing gum
This may come as a surprise, but Moreno always steers clear of chewing gums. "Firstly, it's not great for your jaw," she says. "Secondly, the habit of always having something in your mouth may tangle mindful eating signals. And, nutritionally, it's pure artificial sweeteners and colors. Those can disturb your microbiome and metabolism." To freshen up, Moreno drinks mint tea instead.
There's no one hard rule for everyone, but in general, nutritionists avoid foods that are overly-processed and that don't serve them emotionally or physically — and that's something we can all learn from.
xx, The FabFitFun Team