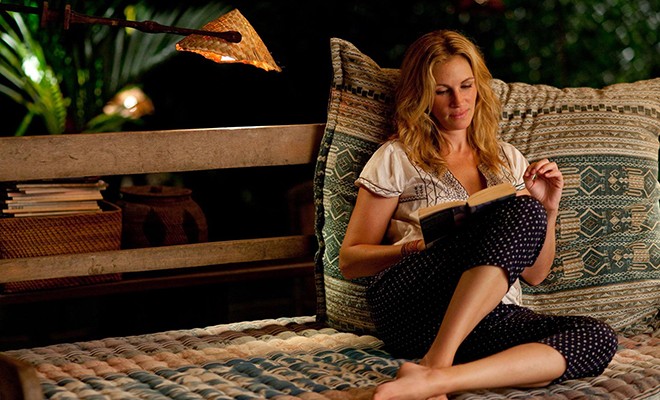 Eat Pray Love
So, you're single and it's Valentine's Day. Sounds like the perfect opportunity to spend a night in and give yourself a little TLC.
Whip up something carb-heavy (like this raspberry cake), grab your laptop, and get ready to Netflix and chill with one of these flicks.

The First Wives Club
This timeless classic follows three super boss bitches (Diane Keaton, Goldie Hawn, and Bette Midler) as they serve revenge nice and cold to their dirty ex-husbands. At the very least, fast forward to the last scene and rejoice.
---

Tiny Furniture
There's something so comforting about watching hot messes in their early to mid-twenties trying to navigate love and life. In Tiny Furniture, Lena Dunham does just that and almost succeeds. It's an affirmation that you'll get to where you want to be — it just takes time.
---

Frozen
You're not four-years-old…so what? We'll take any reminder that sisterly love trumps all other kinds of love.
---

For a Good Time, Call…
This tale of two former frenemies who set out to launch a phone sex chat line will remind you that friendship (and creativity!) are just as important as romantic relationships.
---

Eat Pray Love
In this corny memoir-turned-feature, this movie follows Liz (Julia Roberts) through being a lost middle-aged crying mess on the bathroom floor, all the way to Italy, India, and Bali as she finds herself. She teaches us that the lows are all a part of the journey and that we should embrace them.
---

Misery
Is it really that bad to be single? You could be getting beaten and drugged by a mentally ill Kathy Bates until you finish your next novel. Try putting on a psychological thriller like Misery and instead think about how good you have it.
xx, The FabFitFun Team