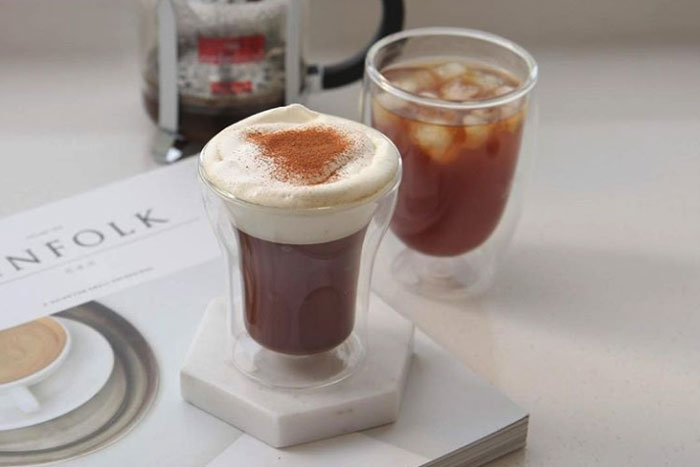 Feature Image by @hej5959
There's something satisfying about the creamy, mousse-like foam that specialty coffee shops pour on top of our favorite caffeinated beverages. It just makes the coffee taste better and feel more luxurious than a standard cup o' joe. However, creamy lattes and cappuccinos can cost upwards of five bucks, and can definitely add up.
Thankfully, there are numerous at-home gadgets that froth milk just like the pros so you can recreate your favorite drinks at home. From handheld versions to barista-like electric ones, these are the milk frothers to give you the creamy coffee you love.
This cute little pitcher whips up a creamy and thick froth that can be made from dairy or non-dairy milk. Plus, it doubles as décor for your at-home coffee station.
---
No bells or whistles here, but this handheld frother still gets the job done. With one press of a button, you can watch your coffee get thick and airy in just seconds.
---
You won't need batteries or plugs for this glass option. Instead, it uses an up and down pumping motion to froth the milk, but because of the small volume is best for serving one to two people.
---
This electric frother comes with a hefty price tag, but might be worth it if your household is obsessed with coffee or you like to host parties and gatherings. In addition to frothing the milk, you can also set your desired temperature and thickness.
---
This frother is a great pick for those of us who want quality without breaking the bank. You can warm and froth your milk all at once and it's great for keeping froth warm for later use.
---
Reviewers say this is the best frother for non-dairy milk, but it comes at a steep cost. It offers a variety of frothing options that makes it easy for the user, but we definitely consider this an investment piece.
---
The glass carafe on this frother makes it easy to heat your foam after whipping. Simply take the top off and pop it in the microwave and voila! It's ready to pour.