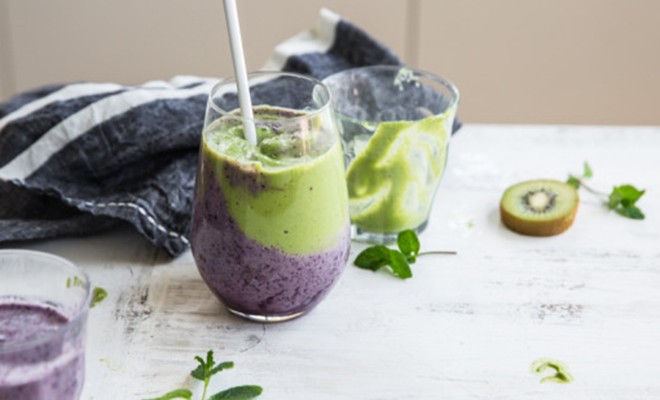 iquitsugar.com
Days spent walking the pier, bonfires at the beach…there's so much to look forward to in the summer!
Not only that, the hot weather also brings a never-ending parade of delicious smoothies to sip on. From chocolate peanut butter to blueberry avocado, here are some of our faves to cool down.
Piña Colada Breakfast Smoothie
Love piña coladas, but not the sugar content? Here's the healthier breakfast alternative.
---
Chocolate Peanut Butter Protein Smoothie
It's like drinking a milkshake, but with all the benefits your body needs. Plus, it's deliciously sweet and creamy!
---
Blueberry Avocado Banana Smoothie
Avocados give smoothies the silkiest, creamiest texture imaginable, so when you throw blueberries and bananas into the mix, you've got yourself a powerhouse smoothie.
---
Key Lime Pie Breakfast Smoothie
Not only is the taste divine, but the smoothie almost looks to pretty to drink!
---
Watermelon and Cucumber Smoothie
How refreshing does this look? We could happily drink this every day all summer long.
---
Strawberry Passion Smoothie
The sweetness of strawberries combined with the tartness of passionfruit makes this smoothie hard to pass up.
---
Lola Berry's Big Green Smoothie
Lola Berry is the queen of fortifying, delicious smoothies in Australia — and her classic green smoothie is no different!
---
Mango Lassi
Though it goes by a different name, mango lassis have all the basic components of a smoothie. We love their sunshiney yellow color and vibrant taste.
---
Kiwi Blueberry Mousse Smoothie
Yes, you read that right. Kiwi mousse! This smoothie is delicious, nourishing, and completely Insta-worthy.
---
Caribbean Passion Smoothie
Ah, bliss. This smoothie blends natural orange juice, strawberries, and peaches to bring you all the tropical vibes.
xx, The FabFitFun Team