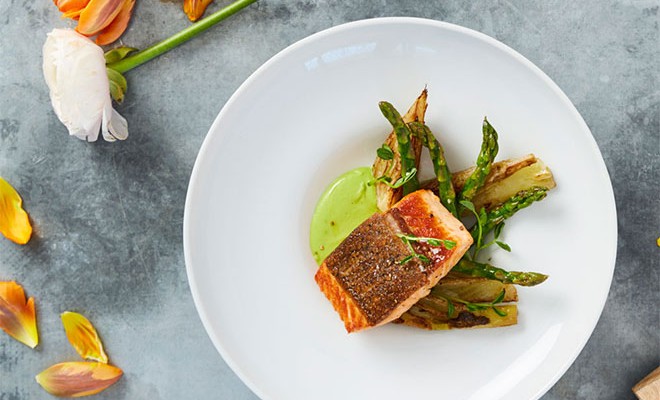 BY JESSICA ESTRADA FOR LA CONFIDENTIAL MAGAZINE
Bastille Day is on July 14, and what better way to celebrate the holiday than with delicious French food? Here's five dishes any Francophile will love.
24 Layer Crepe Cake at 1212
New Santa Monica restaurant 1212 gives the classic French crepe a fun twist. Their 24-layer cake confection is made in-house daily and features layer after layer of thin crepes, chocolate ganache, and peanut butter chocolate mousse. But that's not all. The dessert also comes served with coconut gelato, cookie crumble, toasted marshmallow, and caramelized banana. 1212 3rd St. Promenade, Santa Monica, 310-576-9996
---
Burgundy Escargots at Le Petit Paris
Le Petit Paris is fêting the French holiday with live music and an amuse bouche buffet (5-8 p.m.). While there, we also suggest celebrating with an order of the restaurant's burgundy escargots, which are dressed in garlic and parsley. 418 S. Spring St., Los Angeles, 213-217-4445
---
Pan Bagnat at Pitchoun Bakery
If Bastille Day puts you in the mood for a French sandwich, head to Pitchoun Bakery and have yourself a pan bagnat. The hearty fare is brimming with tuna, hard-boiled egg, tomatoes, lettuce, olives, bell peppers, and anchovies all dressed with a vinaigrette. It also makes for a great grab-and-go dish for a French-style picnic. 545 S. Olive St., Los Angeles, 213-689-3240
To continue reading, head over to LA Confidential Magazine!
---
#ContentBFFs: In order to bring you the very best in beauty, fashion, fitness, and health, we have turned to some of our favorite websites. This article is courtesy of our amazing friends at LA Confidential Magazine who love fashion as much as we do!