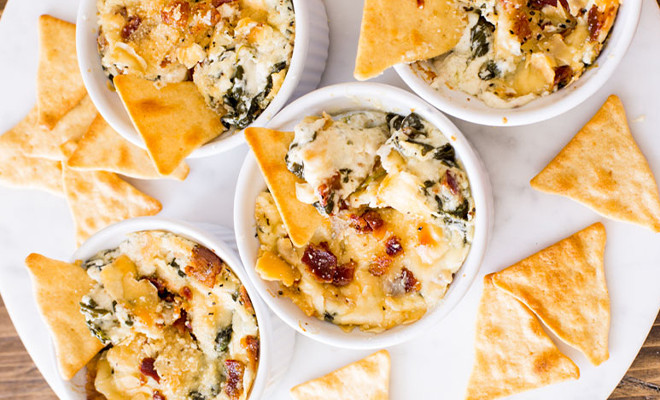 We're stoked for the NFL season to pick up again on September 8. Not only does it signify the beginning of fall, it also means we can watch America's favorite sport while munching on delicious snacks and refreshing drinks with our friends.
So throw a tailgating party in celebration of the season — but don't forget to serve crunchy chips and homemade dip! From beer dip to  vegan buffalo dip, we certainly found a variety of dips everyone at your party will love!
Dill Pickle Dip
You can never go wrong with the classic dill dip. This is the perfect recipe to make and we guarantee it'll be a hit with all of your tailgating guests. Pair with carrots for a healthy snack, or go for the full experience with salty potato chips!
---
5 Ingredient White Queso Dip
If you're all about the tex-mex at your tailgates, then this is one simple recipe to whip up before the game. Five ingredients create a perfect dip that tastes amazing with tortilla chips or drizzled over nachos.
---
Artichoke Dip Stuffed Bread
If you love carbs like us, then this will be your new go-to tailgate snack. Scooped out baguettes filled with gooey artichoke dip? Say no more, we already know this is on our tailgate menu.
---
Sriracha Bacon Beer Cheese Dip
We know you'll have beer lovers at your tailgate, so this dip is guaranteed to be a hit. With cheese, bacon, and beer, it's certainly indulgent. Pair with crusty sour dough bread or Fritos for one delicious tailgate snack.
---
Caramelized Onion Dip
OK, we definitely wouldn't have left onion dip out of this round-up.We're huge onion dip fans, and this recipe doesn't disappoint. Forget the basic onion dip mix and get fancy with caramelized onions to really impress your tailgate group.
---
Healthy Buffalo Chickpea Dip
Do you have health conscious friends at your tailgating party? No worries, because this buffalo chickpea dip is low in cals and friendly on the waist. Pair with carrots and you have one healthy snack that you can enjoy even after football season.
---
Peanut Butter Cup Cheesecake Dip
Everybody loves dessert, so it's time to bring out the dessert dip. We opted for the best combination ever: Peanut butter and chocolate. We guarantee your tailgate crew will be all over this sweet treat.
---
Roasted Garlic and Bacon Spinach Dip
This dip combines the best ingredients if you ask us. With creamy cheese, salty bacon, and bites of garlic, you'll be snacking on this before the game and after. Just remember to pack some mints!
---
Baked Brie Dip
Ditch the cheese trays this football season and take your tailgates to a whole new level by bringing this scrumptious baked brie dip. Who doesn't love delicious brie smothered on top of a toasted piece of bread?
---
Caramel Apple Dip
If caramel apples don't scream fall, then we don't know what does. It's the perfect recipe for those who have a sweet tooth!
xx, The FabFitFun Team