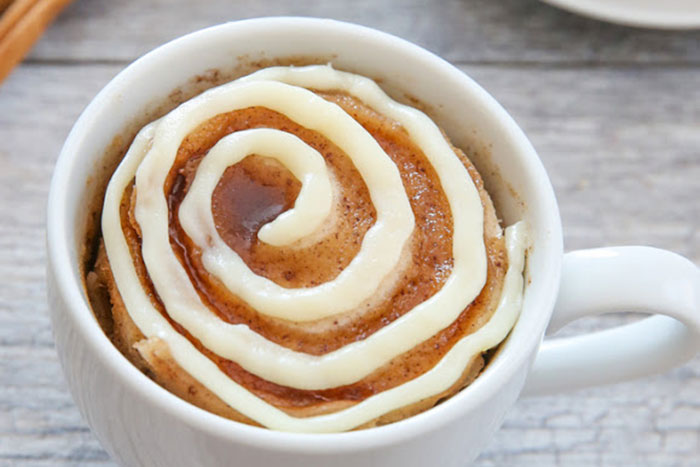 Feature Image by kirbiecravings.com
Pressed for time, but not willing to skimp on flavor? All you need is a microwave and a mug (seriously, that's it) to make everything from chicken pot pie to pumpkin coffee cake.
Don't believe us? We're sharing our favorite fall mug recipes below.
This savory recipe is sure to warm you up on a crisp autumn evening — it's rich, comforting, and creamy.
---
No need to go apple picking since this dessert already gives you notes of spicy cinnamon, brown sugar, and harvest apple. Not to mention, it's so quick and easy to make.
---
The more pumpkin spice, the better, especially when it involves chocolate chips. This tasty treat takes only one minute to make and is completely guilt-free, gluten-free, paleo, and vegan.
---
Meatballs, mixed vegetables, and marinara – need we say more? Just grate some fresh parmesan to complete this delicious dish.
---
Looking for the perfect pairing for your morning cup of coffee? Between its buttery pumpkin center to its cinnamon-sugar streusel topping, this autumn-inspired breakfast is the ultimate fall comfort food.
---
Dinner for one has never been more fun! Cozy up this fall with a warm and cheesy lasagna recipe that's reminiscent of your mom's home cooking.
---
We call this the "everything but the kitchen sink" recipe. Grab whatever veggies you have on hand and combine it with an egg, rice, and a variety of seasonings.
---
No need to leave your house because this decadent banana mug cake serves as the perfect late-night fix.
---
Not to be cheesy, but this recipe is grate. Plus, it only requires three ingredients: water, elbow macaroni, and cheese. If you're feeling fancy, mix in a few different kinds of cheese to make it extra ooey-gooey.
---
There is nothing better than a freshly baked cinnamon roll. It's fluffy on the inside and flaky on the outside with an irresistible cinnamon swirl.
Which mug recipes have you tried? Let us know in the comments below!
xx, The FabFitFun Team