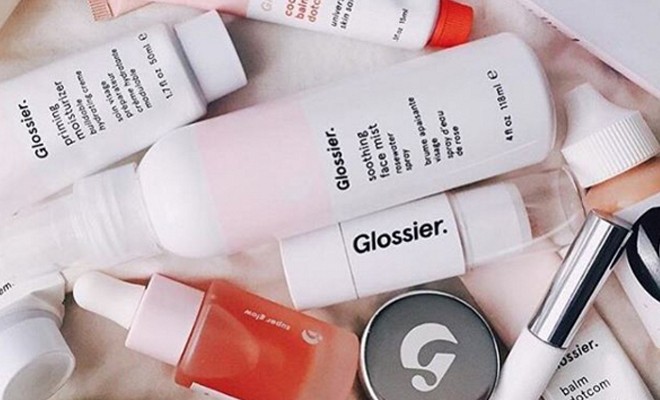 @glossier
We seriously can't stop raving about Glossier. From serums that help clear blemishes to concealers that stretch with your skin, this brand creates products based on what their customers want. Cool, right?
Not only that, the brand's "skincare first, makeup second" attitude is all about giving beauty fanatics not-so-basic (yet basic) essentials to help bring out your most natural, dewy complexion — so you won't find heavy, full-coverage products here.
If you haven't tried out the brand yet, you must. It was hard to just choose a few favorites, but here's what we heart the most.
Glossier Milky Jelly Cleanser $18
This cleanser is the best of both worlds. It's gentle and cleanses deep into your pores at the same time. Your makeup is no match for this gel-like product, and thanks to its rose water component, your skin will look (and smell!) amazing.
---
We couldn't be more obsessed with Glossier's newest release: sunscreen. Touted as "the sunscreen for people who hate wearing sunscreen" this SPF comes in a clear water gel formula, so you're not left with a white, oily residue.
---
Glossier Priming Moisturizer $25
Multi-tasking products hold a special place in our hearts. This lotion can double as a primer and moisturizer, so slick it on before you apply makeup, before bed, or pretty much whenever you need an extra boost of hydration.
---
Glossier Perfecting Skin Tint $26
The diamond powder in this lightweight foundation will minimize pores and give you a blurred, flawless complexion without weighing you down. Once you try this moisturizing product (which feels like you're not wearing any makeup at all), you'll never go back. We swear!
---
Glossier Boy Brow $16
Get every hair slicked into place with this brow pomade. One swipe will enhance your brow line to deliver an absolutely flawless look that still appears natural. Because your brows are beautiful, just the way they are…but an extra dose of Glossier definitely doesn't hurt.
---
Glossier Stretch Concealer $18
We all know what a lifesaver concealer can be! And you won't want to leave the house without this product applied under the eyes or over any problem areas. This looks and feels like your actual skin, so no one will even be able to tell you're wearing any makeup at all.
---
Glossier Super Pure $28
A niacinamide and zinc serum that works to clear impurities and calm blemishes will quickly become your BFF. When you're feeling stressed, about to start your period, you name it — Super Pure can handle it. It's here to keep your skin in check because that's what Glossier is all about: skin care you can count on.
---
Glossier Balm Dotcom $12
Consider this balm your new BFF. If you've got dry cuticles, lips are feeling dry, or if you forgot to apply highlight and you really need to make those cheekbones shine, Balm Dotcom can fix it. The all-over salve comes in different scents, but our favorite for the spring and summer season is definitely coconut.
---
Glossier Cloud Paint $18
Blush is
the
product of the season, and this buildable, easy-to-apply version is sure to get just the right amount of color onto those cheeks. It'll give you a naturally flushed look.
---
Glossier Mega Greens Galaxy Pack $22
When you need a deep down cleaning, look no further than this gentle yet powerful white kaolin clay mask. It's infused with avocado oil and orange peel as an exfoliant, and there's no going wrong with these natural ingredients in your skin care routine.
xx, The FabFitFun Team