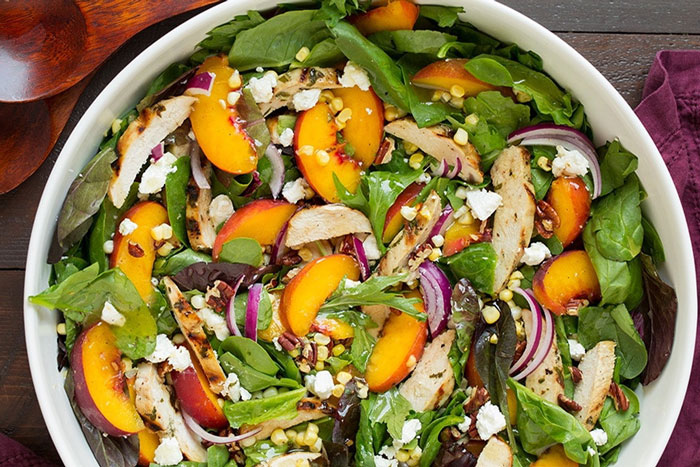 Feature Image by cookingclassy.com
Summer calls for recipes that are quick, light, and require little to no cooking. So spend less time in the kitchen and more time out in the sun by whipping up a few of these summer salads that are simple yet delicious.
Packed with snap peas, asparagus, and thyme, this fresh and tasty summer salad makes it super easy to eat your greens.
---
This garbanzo salad is so rich and filling you'll forget that it's healthy too. The addition of wheat berries ensures you're satisfied 'til your next meal.
---
It wouldn't be summer without the occasional backyard barbecue. Macaroni salad is a staple, and this recipe sticks to all the flavors you're familiar with.
---
There's nothing better than a fresh fruit salad on a hot summer day. The red quinoa and honey lime dressing add a unique element to this refreshing mix.
---
The sweetness of the watermelon combined with the saltiness of the feta cheese makes for an irresistibly delicious snack.
---
We love light veggie salads with a unique element — like the addition of peach in this recipe. The sweet peach perfectly complements the savory basil and salty cheese.
---
Not only is this salad yummy, but it's also loaded with fiber and protein. The health benefits are endless!
---
Strawberries and kale make for a perfect pair in this summer-ready salad. Add the creaminess from the avocado, and you've got a winner.
---
If you've never heard of a panzanella, it's basically a mix of Tuscan perfection. Combine toasted baguette, cherry tomatoes, and fresh basil for a salad you'll want to add to your rotation ASAP.
---
If you're a fan of oriental flavors, you'll love this one. Ingredients like soy sauce, ginger, and ramen noodles are the stars in this super yummy salad.
xx, The FabFitFun Team