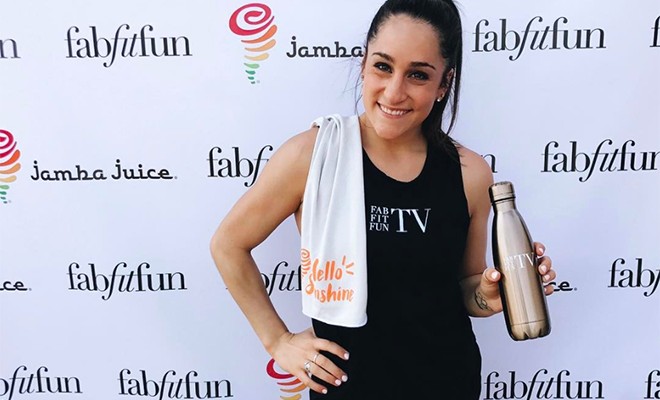 What if you had the chance to partake in one-on-one gymnastic lessons from your favorite Olympian? Well, you can!
We're so excited to partner with gold-medal gymnast, Jordyn Wieber, to bring you some amazing gymnastics tutorials, exclusively available on FabFitFunTV.
Wieber was not only a member of the U.S. women's gymnastics team (and the Fierce Five) where they snagged the gold medal during the 2012 Summer Olympics, she's also a volunteer assistant coach for the UCLA gymnastics team. So it's safe to say she knows a thing or two about teaching gymnastics.
We sat down with the Olympian to discuss how she likes to stay active beyond gymnastics and what kind of music gets her pumped.
What's your favorite workout to do when you're on-the-go (i.e. traveling, etc.)?
On busy trips, I usually head to the hotel fitness center and squeeze in a quick calorie burner. I love to spend 30 minutes on a cardio machine (treadmill, elliptical, bike) and finish with a core circuit, weights, and stretching. On longer trips, I love to go on runs and explore new cities!
Do you have any motivational quote(s) you like to live by?
I love the quote by John Wooden, "Success is a peace of mind, which is a direct result of self-satisfaction in knowing you did the best to become the best you are capable of becoming." It sounds confusing, but it reminds me that as long as I give my 100% into everything I do, I will feel and be successful in life.
How do you encourage yourself to work out when you just don't feel like it?
When I just don't feel like working out, I always text a friend and ask them to join. Working out is always easier and more fun when you're doing it with someone! Another trick is to schedule an early morning workout class. That way, I am held accountable to show up and I automatically have a great start to the day. When it gets really hard to motivate myself, I buy a new outfit or pair of leggings!
What kind of music do you listen to when you work out?
I love anything techno, EDM, or electronic — remixes are my go-to. Pretty much anything with a good beat or big drop gets me pumped up!
What's your favorite part about helping people get in shape?
My favorite part about helping people get in shape is not only seeing the physical change, but also seeing people change their mindset about working out. As I have experienced as an athlete and seen as a coach, it's the best feeling when working out and improving brings people happiness that translates into every area of life.
How do you think workouts are changing in the digital realm and with the rise of fitness on social media?
With social media becoming so popular, people don't have to feel lost or confined when they walk into a fitness gym. Fitness influencers are sharing their knowledge in order to help anyone that feels trapped on the treadmill. People can figure out their fitness strengths and find videos, circuits, and training plans to guide them to their fitness goals.
Don't forget to follow Jordyn Wieber on Instagram (@jordyn_wieber) and check out our Facebook Live with the fitness star.
xx, The FabFitFun Team