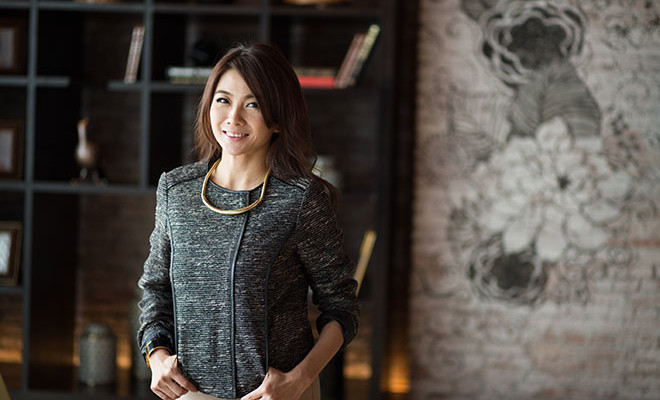 Finding the best products for your skin can sometimes feel like a lost cause. Skin Inc Founder Sabrina Tan felt the same way, especially because she had sensitive, eczema prone skin. So what's a girl to do? Well, you know how the saying goes — "If you want the job done right, do it yourself and create your own skin care line!" OK, so it doesn't go exactly like that, but that's exactly what Sabrina did.
In 2007, she gave up her high paying job in the IT industry to start her own brand, Skin Inc. Now, years later, her product is sold in stores nationwide, including Sephora. So obviously we had to chat with her about what it's like starting her own business, how she balances work and home life, and of course, what her skin care must-haves are!
You had a really solid career before you left your job to start your own business! What were some of your fears?
I was really motivated to share my knowledge and insight on skin care with others who might be suffering like me. For years, I had eczema prone, sensitive skin, dark under eye circles due to sinus pressure, and I was getting weighed down with all the different skin care solutions being suggested to me. I undertook extensive research in looking for a solution that could be a smarter approach to skin care.
And honestly, the inspiration came really from my technology job. Every day I was seeing these modular technology systems where one component could work seamlessly with another and the application could be customized and bespoke to every client. I wanted to find a way to bring that to skin care to make it smarter and more effective. Once I found the solution I was looking for — a unique encapsulation technology that enabled true customization at the individual level — I no longer felt fear. I was motivated completely by my mission to share this with others.
As a working mother, what's your best tip for women who are balancing a career and family life?
My best tip and one that I religiously follow is to focus on strategies that allow me to "multiply" time vs. multi-tasking. One way that I do this is to take my kids along for business trips when it coincides with their school holidays. I took my kids along to a recent visit to my R&D lab in Japan and it was such an enriching trip for all of us. We got to spend time together and the kids were able to see first hand what it takes to bring a new idea to life.
Also, don't sweat the small stuff and know that there is no such thing as a perfect mom. It's just what works for you and your family so don't beat yourself up trying to aim for an unattainable level of perfection.
What's one skin care item you can't leave the house without?
My Daily Dose serum! Currently my dose is Ceramide, Collagen, and vitamin A. I could not leave home without it as the Ceramide helps to strengthen my skin, Collagen improves my elasticity and suppleness, and vitamin A tackles the uneven tone and dark circles which are a concern for me.
What types of products should people with sensitive skin should avoid?
As a sensitive skin sufferer myself, I can definitely say be a label junkie! Avoid products with alcohol, harsh retinol products which can weaken your skin, scents, and even preservatives like parabens.
Now that spring is here, are you changing anything about your beauty routine?
The weather and environment definitely affects skin so I will recalibrate My Daily Dose to ensure that the ingredients that I am using are right for me. I also want to focus more on exfoliation to remove the build up of dry flaky skin and use the Get Glowin Mask to brighten and get my skin spring ready!
xx, The FabFitFun Team