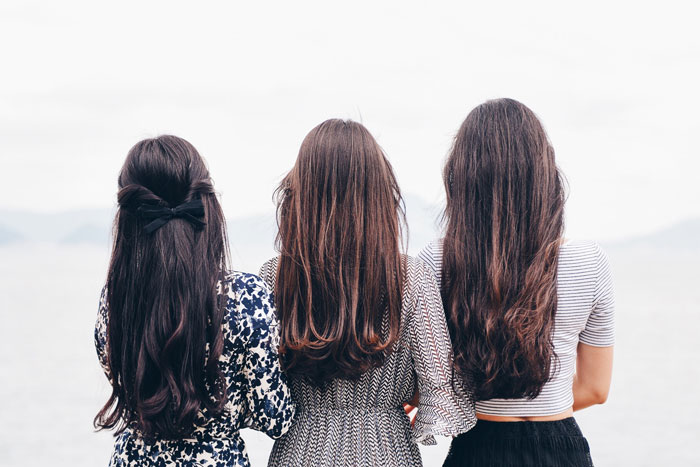 Feature Image by Suhyeon Choi
When it comes to hair extensions, it can either look like long, voluminous locks or totally fake. To help you find the most suitable extensions for you, two experts share everything you need to know below.
Speak with experts
"Talk to the experts and find the best option for you," says Angelo David Pisacreta, creative director of Angelo David Salon. "Meeting with an expert consultant will allow you to establish the perfect hair extensions based on your needs," he adds.
Look for high-quality extensions
"You want to have the highest quality 100% Remy hair extensions, so it looks natural," says Lisa Richards, co-founder of RPZL. Splurge on quality as many conventional and cheap extensions can actually cause damage to your tresses.
Do your research
"It's important to do research on the brand you decide to use," says Richards. Not all extensions brands (and methods!) are created equally.
Make sure the extensions suit your lifestyle
"Always pick the right extensions for your lifestyle," suggests Richards. There are different types of hair extensions – including clip-ins, tape, and keratin – to choose from. It's a matter of figuring out which type best fits your lifestyle.
Explore the different options 
"I recommend trying clip-in extensions if you're a beginner as they're a great starting point for anyone looking for a temporary switch up," explains Richards. "You should also consider tape extensions as they're held in place with strong invisible bi-adhesive premium tape that's undetectable to the touch," Richards adds. These kinds of extensions usually last for up to eight weeks. "The third choice is keratin extensions." They are attached with a high-tech process that binds them with sound activation and keratin attachments and they typically last for three months or more.
Get the right color match
"Being off even by a shade is a dead give away that you're wearing faux hair," Richards warns. Be sure to color match your extensions with the ends of your locks (not the roots), and go with the color that matches your natural hair.
You don't need to spend a fortune on good extensions
"You don't need to spend thousands of dollars on good hair extensions," Richards says. In fact, there are plenty of affordable options on the market that are just as effective and natural as its pricey counterparts.
Take care of your extensions at home
"You do need to take care of your extensions properly, and invest in the right products," Richards advises. "I recommend using a sulfate-free shampoo and a highly moisturizing conditioner or hair mask to maintain the condition of the hair."
Get a good brush
"Tools like the Flex Brush are perfect in maintaining hair extensions," says Pisacreta. This brush is highly effective in detangling the extensions and keeping the hair soft.
Extensions shouldn't be uncomfortable
"You shouldn't experience any pain or great discomfort after getting extensions," notes Richards. If you do, be sure to go straight back to your stylist to get them repositioned.
Don't wear your extensions longer than you should
"When people say extensions damage your hair, that's because they weren't professionally removed," says Richards. You have to maintain them within the appropriate time frames – you don't want to be wearing six-week extensions for any longer than that!
xx, The FabFitFun Team