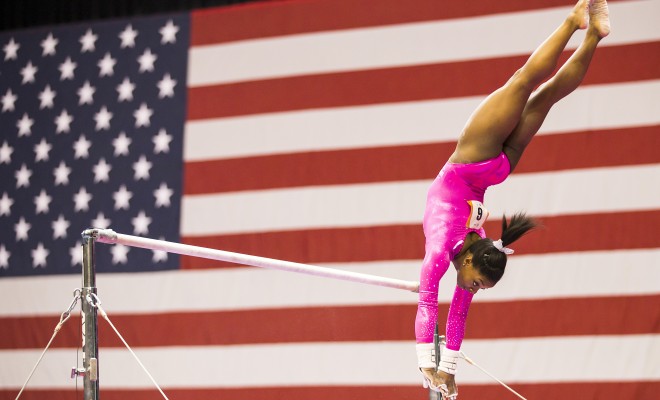 Gymnast Simone Biles of the USA competes on the uneven bars during the AT&T American Cup at AT&T Stadium on Saturday, March 7, 2015, in Arlington. (Smiley N. Pool/The Dallas Morning News)
The 2016 Rio Olympics are finally here! Seeing some of your favorite athletes in action will naturally get you pumped up to revamp your workout routine. But we know that watching them in action might be a bit intimidating, leaving you clueless on how to train on your own. So we're giving you a few easy ways you can start getting in shape like these top athletes (without having to bust out a back handspring).
Michael Phelps
Of course this Olympic swimmer includes traditional laps in his training, but for a well-rounded workout Phelps doesn't shy away from tools that can be utilized in the pool like kick boards and hand paddles. Kick boards help to isolate leg movements while training, and hand paddles are ideal for improving strength and technique. He also takes his training out of the pool by hitting the weight room. Push-ups and pull-ups are his go-to moves and work a number of muscle groups including chest, shoulder, core, biceps and mid-back just to name a few.
---
Simone Biles
Cardio is key in gymnastics. From tumbling to running laps there is a lot that goes into a gymnast's workout routine. Not to mention the strength and agility needed in order to achieve flawless execution on each event. Tackling moves like a legless rope climb, pull-ups and v-ups are a step in the right direction. These strength training moves can easily be added to your regular routine or at the end of a run.
---
Kerri Walsh Jennings
This mother of three starts her routine first thing in the morning starting with the mind, waking up before everyone else in her home. With a demanding schedule her workouts need to be effective and short when she is not on the volleyball court. From single leg dead lifts to side planks with a stability ball, Kerri has a solid routine that can easily be replicated in or outside the gym. You can fire up your workout by doing single leg deadlifts for 3 sets of 10 reps.
---
Usain Bolt
According to Bolt there is nothing to hide when it comes to his training. "There are no secrets," he says. "You just have to develop strength, power, acceleration and technique," says Bolt in Men's Health UK.  To score an electrifying speed Mr. Bolt-style, training is key. The idea is to be light on your feet, simple moves like bunny hops and box jumps will send you on your way to increasing your speed. Trying performing these routines 3-5 times a week coupled with your regular routine.
xx, The FabFitFun Team