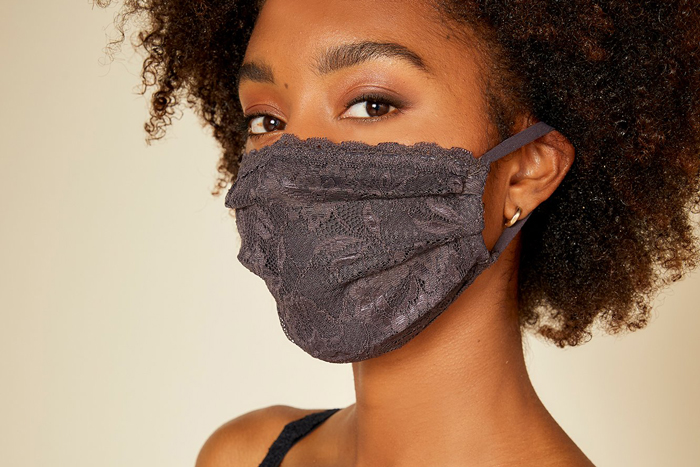 Feature Image by Cosabella
Wearing your mask is the best way to keep yourself and others safe during this time. With that being said, what's safe doesn't always have to be boring. Just like any other basic clothing item, it looks better when you pair it with a sartorial enhancement.
What we don't want to be paired with our mask? All the other non-exciting things like mask-ne and irritated under eyes. If you've found yourself here, you must be in the market for something that makes wearing your mask less of a headache. From pairing jewelry with your favorite mask to finding a serum that alleviates distressed skin, we've got just the thing(s) you need to make the most of wearing your mask.
You can find the below products and more in The Expert Is In Sale, which opens to FabFitFun members on Friday, October 16 at 9 a.m. PT. The sale will feature expert-recommended items, from clinical skin care products to home decor, at up to 70% off. If you're not a member, use code EXPERTISIN for 20% off your first box and to shop the members-only sale!
Elevate your look with stand-out accessories
If you're someone who coordinates their masks with their outfits — let's have a chat because you're doing it right. However, if you're someone who has been sticking to old faithful and rocking the same mask (with regular washes we hope!), you could probably spice up your look with something like a statement earring. It can really elevate your look, taking you from 0 to 100 in a hot second. Here's what we're turning to lately.

If you're wearing studs, they're often covered up behind your mask. Switch it up and add an earring that really pops like these adorable drop earrings. "Earrings are the outfit's new 'quick-change.' Transform any ensemble from ordinary to extraordinary when you add a pair of earrings," suggests Marlyn Schiff, founder and designer of Marlyn Schiff.

Toss the plain face masks aside — just for a bit. "Our lives could always use a splash of color, especially in darker days. Step out looking your best, like you always do, with an extra accessory to keep you and those around you safe," says Guido Campello, co-CEO and creative director of Cosabella.

Layer up some of your favorite necklaces, and definitely don't skip out on this circle charm necklace — perfect for rounding out your everyday look.
---
Dare to go bold with eye makeup
It's no secret that the eyes have been stealing the show lately. While our lipsticks are collecting dust in our makeup bags, our eye shadows and mascaras are getting some extra love and attention. Next time you're perfecting the eyes, go big and bold for a look that strangers will remember.

Your mascara can do wonders. "Apply mascara to the top of the lashes first, then sweep up to coat from the base of lashes for maxed-out intensity. No need to curl lashes, this mega-volume building mascara is the optimized combination of formula and brush for maxed out lash density and curl," says the team from Stila Cosmetics.

Ditch the makeup brushes every once in a while for a look that stuns. "Apply [the] eyeshadow gently using your ring finger to the center of eyelids. This trick will instantly wake up your makeup and make eyes appear brighter," recommends the team at Stila Cosmetics.
---
Fight off mask-ne while wearing a mask
You can protect your health and your skin all at the same time. Get excited about putting your mask on when you lather your skin with these magical skin potions.

Don't leave this powerful formula out of your beauty routine. "Featuring salicylic acid, probiotics, niacinamide, and azelaic acid, this alcohol-free formula will fight existing blemishes, prevent future breakouts, and fade the appearance of marks left by past blemishes," says Dr. Roshini Raj, founder of Tula.

You can actually treat unwanted pimples while you're out and about, all thanks to these mighty patches that remain tucked away under your mask. "The moment you notice a zit forming, apply Micropoint for Blemishes to bring any gunk to the surface. Finish the job with pus-absorbing Mighty Patch Invisible+ to extract the remaining whitehead. Finish it off with Micropoint for Dark Spots to brighten any spots left behind," says Ju Rhyu, founder of Hero Cosmetics.
---
Enhance your skin
Don't let a mask stop you from getting the absolute best skin of your life. While your makeup routine might be at a halt, you can still sport sun-kissed looks and a stunning glow with the help of some key products.

Let your foundation rest a bit. Foundation tends to rub off onto your mask, so why not take this as an opportunity to make way for some products that will enhance your natural skin tone. "Achieve a flawless tan using innovative concentrates that work in synergy with your existing body and skin care regime to transparent formulations for skin-loving hydration and color," says the Tan Luxe Team.

With all that's going on right now, there's much to stress about. What you shouldn't stress about? Aging skin. "What separates Age Arrest from all those other eye creams? It's inspired by Nobel Prize-winning medical research on age repair and comprehensively firms, tightens, and tones the eye area," says founder Kate Somerville.
Make wearing a mask something you look forward to doing when you incorporate these products into your daily attire.
xx, The FabFitFun Team