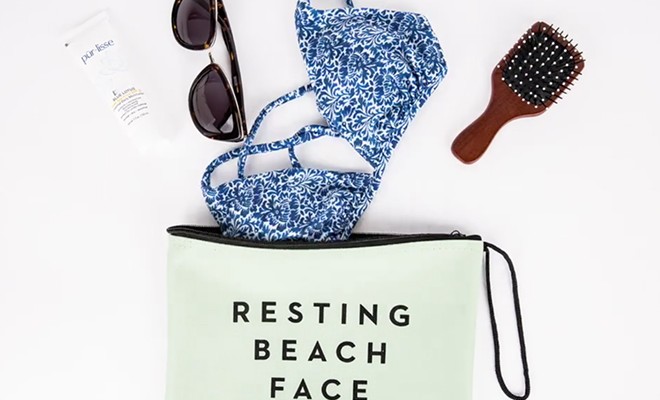 Springtime is finally here! And it's safe to assume that you'll be spending more time outdoors soaking in that Vitamin D. You've also got an excuse to splurge on a new swimsuit or two…but don't let the sun and chlorine ruin your purchase.
You should be treating your swim gear with the utmost care, so here's how to keep your bikini in tip-top shape all season long (and well into summer).
1. Transport it in style. Don't throw your suit inside your tote filled with things that could snag or tear at the delicate fabric. Keep it safe in a water resistant bag, like this super cute Milly Zip Pouch (available in the FabFitFun Spring Box)! Plus, you can double this bag as a clutch to hold any personal items while you're splashing around in the water.
2. Rinse it after each use. Once your suit is off, soak it in cool water with a few drops of mild detergent in your sink for about 30 minutes, taking every 1o to 15 minutes to gently wash the swimsuit. This will help rinse off any saltwater, chlorine, sunscreen, and sweat. Then gently wring out excess water and let it hang dry or dry it flat on top of a towel.
3. Use a towel when seated. Always have a towel between your tush and the chair, rocks, or ground where you're sitting. This is one of the easiest ways to prevent pilling and tears in your bikini!
4. Never put it in the washer or dryer. This is a death wish for your suit! Not only will it fade the colors, but you're also subjecting your bikini to pilling as well. Always hand wash with a mild detergent and hang or lay flat to dry!
xx, The FabFitFun Team
P.S. Psst! Have you signed up for the #FabFitFun box yet? Don't miss out on $200+ in amazing beauty, fitness, fashion, and lifestyle products every season. Join today!
To get the most out of your box products, make sure to check out the Insider page.