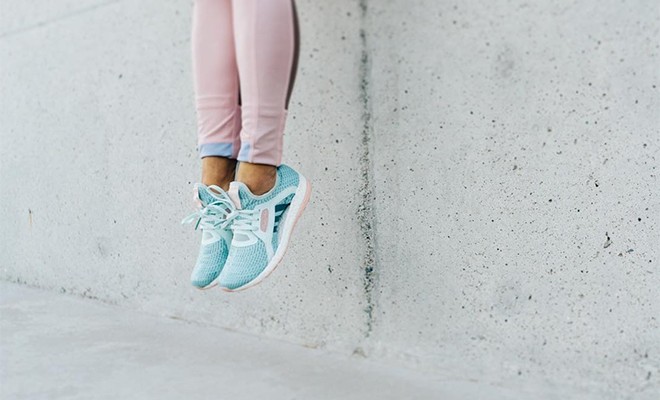 @gofitjo
Working a desk job often involves a lot (and we mean a lot) of sitting.
But even if you're going to the gym after work, you're probably not getting enough physical activity throughout the eight hour work day. "It's important to get moving during the work day, and not just before or after you get into the office," says health coach Jill Ginsberg. "Frequent movement not only helps with your physical health — including your posture — but it's also important for your mental health."
If you find that you're not moving enough at the office, consider these six ways to fit in exercise throughout the day.
Take the Stairs
Let's start with the obvious: Skip the elevator everyday, and take the stairs instead. "Kick the challenge up a notch by making a mini Tabata workout out of it by running up a flight or two of stairs and then resting," says health coach Robyn Lanci.
Do Squats on the Phone
"Make your day a little more interesting by doing some squats every time you get put on hold, and challenge yourself to keep it up until the recipient picks up," says Lanci. "Squats are another good exercise for your quads, and they work your glutes too."
Take a Walking Meeting
A busy schedule with meetings all day can make it difficult to fit in a lunchtime workout break, so consider changing one of your meetings from a lunch date to a stroll outside the office. "Take that meeting on the road, skip the conference room, and turn it into a walking/talking meeting," says Ginsberg. "It's amazing how much better your brain functions with a little fresh air and activity."
Lunge When Doing Tasks
"If your office culture is laid back enough, consider some creative alternatives for making your way to the printer," says Lanci. "Walking lunges work your quads and test your balance."
Utilize Your Commute
If you drive to work, consider doing some mini workouts while you're in your car — carefully, of course. "You can do glute exercises by engaging and releasing your cheeks 20 times in a row, holding them tighter for 10 seconds and then releasing for five seconds," says Ginsberg.
Organize an Office Fitness Team
You won't feel so bad about skipping out on lunch with your co-workers if they join you for a fitness challenge instead. "Get a group together and use your lunch hour to exercise," says Lanci. "Speed walking is a great option because it gets your heart rate up, but won't leave you feeling super sweaty when it's time to return to your desk."
xx, The FabFitFun Team