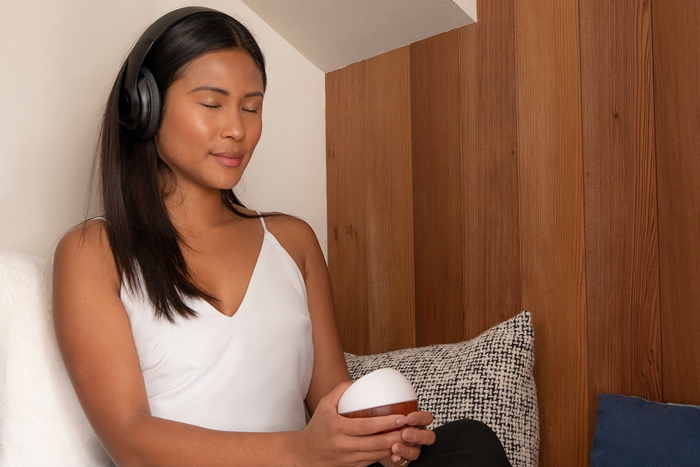 Feature Image by Core Studio
If you've ever considered adding meditation into your routine, there's no time like the present to learn the unmatched benefits of doing so. Of course, in order to witness the best results, you'll first need to know how to set up the perfect space for meditation.
Ahead, Sarah McDevitt, the founder of Core Studio in San Francisco, as well as the recently-launched Core Meditation Trainer (which earned endless praise for its grounding technique and habit tracking abilities), walks us through the five tips to set up the perfect meditation station.
Adjust the temperature of your space
"Research tells us that it's better to lower the temperature in your room to between 60 to 70 degrees Fahrenheit while you sleep," McDevitt says. "Sleep really impacts our state of mind, so anything you can do to optimize that time helps."
Cater to your senses
"Senses can definitely play a large part in any experience, so see what helps you get into the best place mentally for your practice," McDevitt suggests. "For me, I love to light a candle and make sure that I'm not under any harsh lighting. Most of all, I like to be comfortable, so I often meditate on the couch or even laying down in bed."
Meditate away from your workspace
"I like to have my workspace hidden from me while I meditate, especially right now," McDevitt shares. "It helps me get into the right frame of mind. In my meditation nook, I can't see where I usually sit or work, and I keep my laptop out of view."
Make your space a comfortable place to reflect
"After I meditate, I review my progress in the Core app, which tracks my stress-levels," McDevitt shares. "We also have a feature that I love, which is a journaling opportunity after each session, so I often jot down a few notes about what's going on for me or anything that came up in my session."
Keep it consistent
"Consistency with meditation is more important than anything else, in order to reap the benefits," McDevitt says. "I think of it very similar to physical exercise – you're training your brain, and you use it or lose it. Having a dedicated space, if you can, for your mental training can make this even more seamless in your routine. At Core, we talk a lot about doing things intentionally, and meditation is no different. Make your switch from one activity to the next activity intentional, in this case, meditation. You're making that choice to do this for yourself, so go for it, whether that's for three minutes or 30 minutes!"
Have you tried meditating? If so, how did you like it? Let us know in the comments below.
xx, The FabFitFun Team