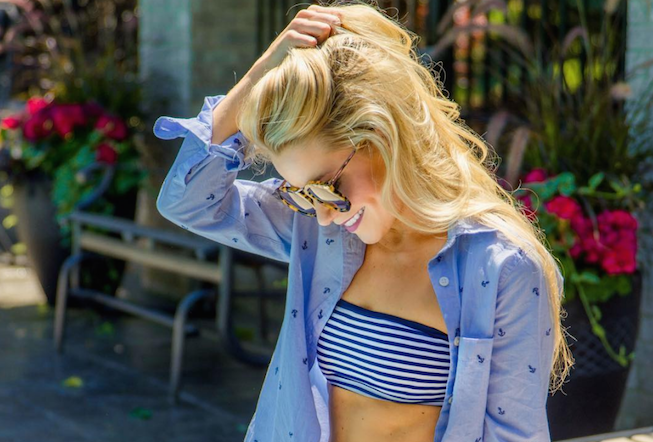 @oliviarink
When it comes to changing your locks from dark to blonde, you're not really dyeing your hair. You're actually doing the complete opposite and removing color. In a nutshell, we're talking different haircare strokes for different folks (aka blondes!).
After sitting down in the chair with Butterfly Studio's color expert, Tamara DeFelice, for a gorgeous new blonde 'do, we're excited to bring you these handy color-centric tips. From purple shampoo to a braid-meets-oil trick, these will help your blonde locks stay blonde all summer long.
Keep Your Hair Nourished
While updating our summer 'do with  Tamara, we learned that the main focus as a blonde is to make sure your locks are super nourished. This means mask city. In addition to a good conditioner that strengthens and moisturizes, we also suggest a mask like the Shu Uemura Art of Hair Color Lustre Brilliant Glaze Treatment Masque ($68). It will help to restore the hair's lustre and protect from fading all-in-one.
---
Embrace the Sun
Blondes, rejoice. A little sun will actually benefit your color and make it brighter. Repeat for blondes only! If you've had a darker dye job, think complete opposite and you'll want to focus on using UV products to protect your color.
---
Use a Purple Shampoo
Purple will cancel out any yellow (better known as brassiness) from your color and keep your hair brighter — especially for paler blondes. One of Tamara's latest obsessions is Oribe's new Bright Blonde collection. The shampoo, conditioner, and repairing mist instantly illuminate blonde hair as they correct and brighten. These products help to bring brittle strands back to life, and plus, they're purple — what's not to love?
Insider tip: Replace conditioner with Oribe Bright Blonde Radiance Repair & Treatment two times per week for an extra dose of moisture.
---
Braid and Replenish
Tamara suggests skipping a day where you'd normally wash your hair to replenish. Simply apply a good hair oil (we love OUAI Hair Oil), braid, and walk around with a stylish 'do for the day. It will give the oil time to deeply penetrate and leave your hair looking shiny and healthy. This hair trick is perfect for summertime, because who doesn't love a good braid?
xx, The FabFitFun Team