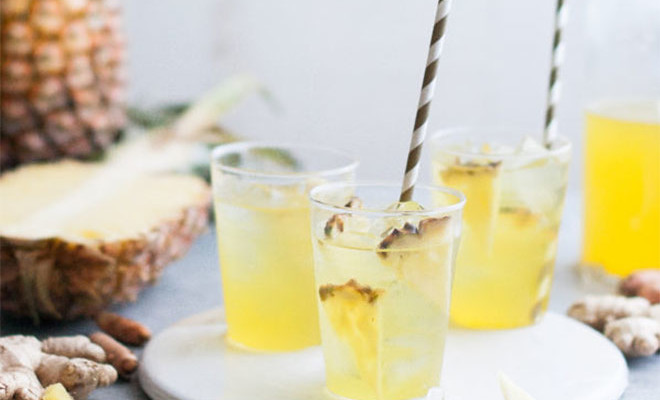 If you're looking for several refreshing summer beverages sans booze (although you can definitely spike these!), we've got eight thirst quenching tea recipes for you. And while we do love iced tea on its own, these are all chock-full of extras like nutritious fruits and more!
Check out our favorites below — basking in the sun just got a whole lot tastier!
Southern Strawberry Sweet Iced Tea
Yep, this tea tastes just as good as it sounds thanks to a blend of black tea, fresh strawberries, and sugar. It's the perfect beverage to pair with your BBQ entrées on a hot summer day!
---
Pineapple Ginger Iced Tea
If you love pineapple, just wait until you taste this delicious tea. In addition to the mouthwatering fruit, it also contains fresh ginger, turmeric root, lemon, and raw honey. The blogger notes that it's "free of refined sugars and is a refreshing way to give your body an icy dose of anti-inflammatory benefits." More, please!
---
Watermelon Iced Tea
We're a fan of watermelon, if you haven't noticed by now. This concoction is super easy to whip up! Mix watermelon juice, lemon iced syrup, and your favorite tea of choice to create your very own spin on this tasty beverage.
---
Raspberry Mango Honey Iced Tea
Pool time just got a lot tastier thanks to this recipe. It combines English Breakfast tea, mango nectar (or juice), honey, diced mangoes, and raspberries. It's super easy  to make and it's the perfect way to treat your guests when hosting a pool party. Just don't forget the chic paper straws!
---
Matcha Mint Iced Tea
You definitely need to whip up this Matcha Mint Iced Tea! Matcha is all the rage right now, so why not make a refreshing treat out of it. This recipe involves lime, fresh mint, matcha, and homemade minty simple syrup to sweeten it up a little. Yum!
---
Blackberry Mint Iced Green Tea
Joy Love Food combines Skinnytox Organic Energy Berry Morning Tea Blend with blackberries and mint to create this invigorating tea drink. It's a great way to start the day!
---
Orange Iced Tea
Looking to make your tea more fun? Make a fruit syrup like this one containing fresh oranges. Garnish with orange slices and mint tea, and you've got yourself one yummy beverage.
---
Iced Saffron Tea with Peach and Basil
This Rooibos tea with red saffron, vanilla, peaches, and basil is an instant summer crowd pleaser. We suggest making at least one pitcher, as it'll go very fast — trust us!
xx, The FabFitFun Team