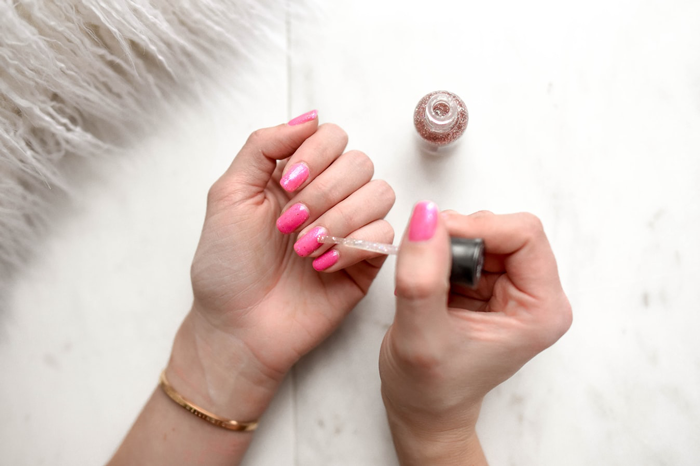 Feature Image by Element5 Digital
The best part of gel nails? They're gorgeous and long-lasting. The worst part of gel nails? Taking them off. That's why we rely on routine visits to our favorite nail salon. However, since we're still playing it safe at home, it's up to us to properly remove our gels while also giving our nails that good TLC.
Chipping away at the gel can pare down your nail bed, which can cause damage and uneven texture. That's why we gathered some tips from beauty industry experts on how to remove your gel nails safely at home.
Prep your tools
Make sure your manicure essentials are clean and ready to use. In your caboodle, you'll want "pure acetone, a nail file, cotton balls, aluminum foil, and a cuticle pusher," says Deborah Lippman, celebrity manicurist and founder of Deborah Lippmann. She recommends pre-cleaning tools by "filling a baking dish halfway with extremely hot water and a squirt of dish soap. Soak the tools for 15 minutes, making sure they are completely submerged. Rinse the tools in lukewarm water and completely dry them using a kitchen towel. Finally, place the dry tools on an old baking sheet and put them into a warm oven for ten minutes."
File off a layer
Now that your supplies are ready to roll, begin by "breaking the seal and filing or buffing off the top coat of your gel manicure. By removing the top coat of your manicure, you'll help accelerate the removal time because there's one less coat to break down during the soaking time," explains, Sigourney Nunez, OPI North America education manager. After you file off a layer, give your nails a break with some cuticle oil or a thick cream. What comes next is strong, so you want a potion that's going to protect your nails.
Give it a good soak
Once you have filed off as much as you can, "wrap nails with cotton soaked in acetone and cover with foil. This helps the acetone loosen the gel without evaporating," says Brittney Boyce, Los Angeles-based celebrity nail artist. People often go straight for dipping their fingers into a bowl of acetone, but we recommend doing right by your nails with this method. Cotton balls tend to hold onto acetone better and are similar in size to your nails, so you're getting that full coverage without damaging your skin.
Remove any leftover polish
Once your nails have soaked for about ten minutes, "remove the aluminum foil and cotton and use your cuticle pusher to very gently nudge the gel off the nail. If it doesn't lift right off, do another round of soaking by saturating cotton with acetone and wrapping aluminum foil. Resist the temptation to file it again because that is where you can damage your natural nail," shares Lippmann.
Keep nails healthy post removal
The removal process can take a toll on your nails, especially during this time. "Our hands are especially dry right now with all the extra hand washing and sanitizers we are using daily," says Nunez. "So, it's helpful to replenish some of that moisture by applying cuticle oil. Make sure you take some time to massage it in, especially at the root of the nail, which can help stimulate blood flow and promote nail growth." Say no more.
We hope these tips will get your nails back in perfect shape. Have cool DIY manicure ideas you want to share with us? Drop some pictures in the comments below!
xx, The FabFitFun Team