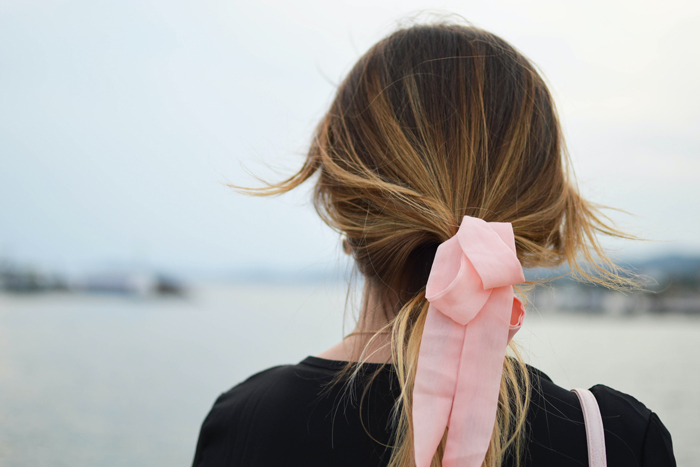 Feature Image by Tamara Bellis
Overgrown roots are something the majority of us hair color enthusiasts have dealt with at some point. Perhaps yours became unmanageable during the pandemic, or maybe you're intentionally embracing the style à la Dua Lipa or Margot Robbie. Whatever the case, if you're searching for easy ways to conceal or blend your overgrown roots, we've got you covered. Read on for five DIY tips to try in between salon appointments.
Invest in a quality touch-up spray
Consider a long-lasting and top-rated spray formula to cover up or blend your roots in between hair appointments. One of the FabFitFun team's favorites is the dpHUE Color Touch-Up Spray, available in six shades. It's one of, if not the most easy-to-use root-concealing products on the market with two spray settings for super precise, mess-free application. If the thought of a spray doesn't do it for you, there are also so many great powder formulas on the market, like Color Wow Root Cover Up, loved by Jennifer Lopez, among others.
Change up your hairstyle
You don't need at-home hair color products to minimize the appearance of overgrown roots. Simply styling your hair differently than you usually do can do the trick. Take the focus away from your roots by parting your hair in a deep side part and giving your strands a hearty spritz of volumizing spray, like R+Co Balloon Dry Volume Spray. Or, play with texture by creating tousled beach waves (see: Playa Endless Summer Spray). This hairstyle distracts from what's happening at the root, unlike when your hair is stick-straight. 
Get creative with dry shampoo
While the following hack might be worth trying if you're in a pinch, it's mainly suited for blondes: Spray dry shampoo directly into your roots, and then let the product sit for a few minutes. Then, massage the pigment into your strands, and add more dry shampoo, if needed. This probably won't work as well as a temporary hair dye product, but it can make the roots appear more blended (see here for a tutorial). We recommend trying your hand at the trick with Locks & Mane #IWokeUpLikeThis Aerosol Dry Shampoo.
Scoop up some new hair accessories
Let us introduce you to Shrine Crystal Root Jewels, which will take attention away from your roots and onto the glistening gems that were undoubtedly born for your Instagram feed. Of course, this statement look isn't for every occasion, but you can't deny that they're perfect for special events, like a music festival. If you're looking for something more suited for day-to-day, we recommend a thick headband. Go sporty with an option like the Athleta Savasana Headband or stylish one similar to the multicolored Missoni Sash.
Go bold with temporary hair dye
Feeling creative? Pick up a bottle of easy-to-use semi-permanent hair dye to simultaneously conceal your roots and make a major (but temporary!) change. We love the formulas from the social media-famous hair color brand, Shrine. All you have to do to transform your strands is squeeze the hair color drops into your favorite conditioner (there's a chart to gauge how many drops to add based on your desired hair color), apply it to your hair, and then rinse after ten minutes.
Do you have any tips on concealing overgrown roots? Let us know in the comments below!
xx, The FabFitFun Team