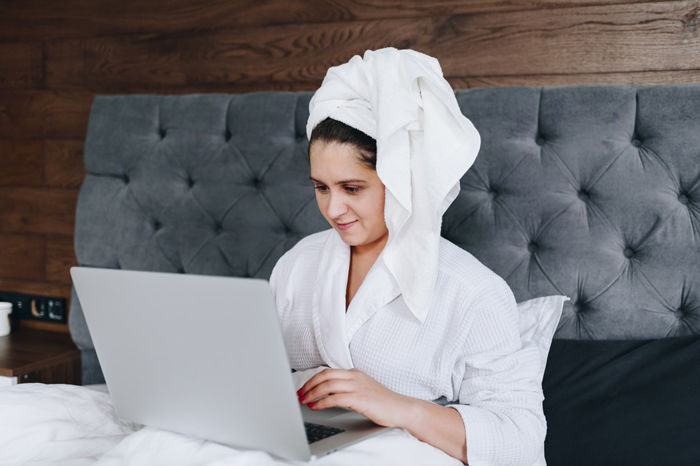 Feature Image by Anastasiia Chepinska
Just because you're practicing social distancing, it doesn't mean that you have to spend your Saturday night binge watching Netflix alone for the thousandth time. Enter: the Zoom party.
Platforms like Zoom and Google Hangouts have become increasingly popular over the last few weeks because they allow you to get together with a bunch of your friends and family without leaving the safety of your own home. At a time where social interaction is so limited, virtual hangouts can definitely go a long way in making you feel less lonely.
And the best part? You can have a lot of fun with it by throwing a Zoom party. Ahead, we're sharing some fun ideas to consider trying this weekend!
Fancy dinner party
If you've been living in hoodies and yoga pants, a virtual fancy dinner party is your chance to put on your favorite dress that's been sitting in your closet for the past few weeks.
Game night
From charades to a virtual round of Cards Against Humanity, there are so many options out there for you and your friends to try. You can even make it a regular thing by taking turns choosing the game that's played each week.
Decade dance party
You and your friends can celebrate your love for the '80s, '90s, or early 2000s by getting dressed up and dancing the night away to all the hit songs from the decade of your choice.
Karaoke night
Take turns singing along to the karaoke version of your go-to song. More often than not, you can find the karaoke version of the song you want on YouTube.
Pajama party
Put on your comfiest pajamas, open up a bottle of wine, and get ready for some "Truth or Dare" because a virtual sleepover is sure to be a lot of fun. You can even take it up a notch by surrounding yourself with pillows and building yourself a cozy blanket fort.
Movie night
You and your friends can easily chat and watch the same movie at the same time with Netflix Party. Turn it into a theme party where everyone dresses up as their favorite characters.
Cooking and cocktails party
If one of your friends is really good at cooking or making cocktails, you can have them host a mini cooking lesson. If not, you can also follow cooking videos on FabFitFunTV and see how each other's dishes turn out.
Do you have any other Zoom party ideas? Let us know in the comments below!
xx, The FabFitFun Team