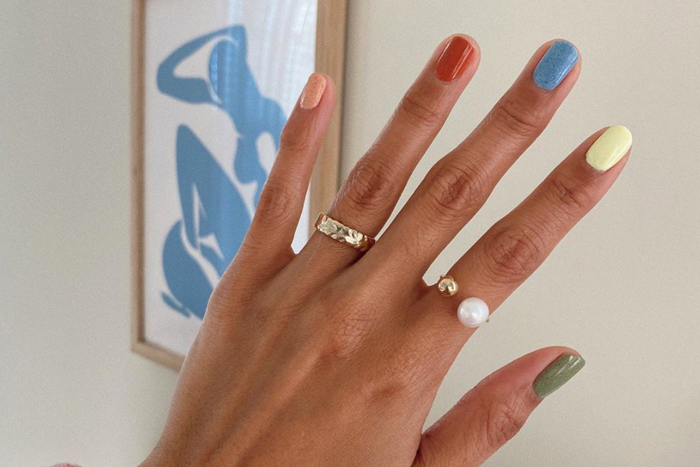 Feature Image by @overglowedit
Use this time of self-distancing as an opportunity to have some fun and try new things you would otherwise be to busy to do – like nail art!
Dust off the nail polish buried in your closet, raid your apartment for a small eyeliner brush, bobby pins, and tape, and get to painting one of these simple yet eye-catching designs below.
Polka Dots
Grab a bobby pin and dot your nails. So easy!
---
Multi-Colored

If you don't want to draw designs, just paint each nail a different shade. You can do a gradient or a mix of primary colors.
---
French Moon
Choose two complementary colors and get creative with where you place the crescent.
---
Stripes and Lines
Experiment with different colored stripes and lines!
---
Easter Eggs
It may not feel like it, but spring is here so why not decorate your nails like Easter eggs? All you need is polish and a black nail pen!
---
Stick It On
Paint your nails with a clear coat and stick on some of your favorite stickers.
---
Nude Half Moon
Cut a half-moon shape out of tape, then paint your nails nude for a chic look.
---
Grapefruits
You can't go wrong with cute grapefruits. Use an eyeliner brush to draw precise lines.
---
Smiley Faces

We all could use a reminder to smile! Start with a neutral base and have fun with a variety of colors with the smileys.
---
Minimalist

Keep it simple with a thin line down the middle of your nail.
 xx, The FabFitFun Team