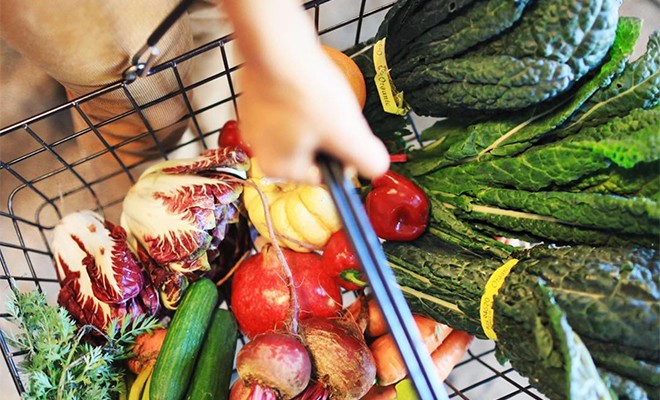 @rrayyme
If you're looking to shed a few pounds or even snooze your alarm a couple more times in the morning, meal prepping might be your best bet. Prepping your meals in advance allows you to incorporate healthier options throughout the week and even save a few extra bucks on your weekly grocery hauls.
Ahead is our step-by-step guide to meal prep your way to a healthier you!
1. Create a meal plan for the week. Consider what your week will look like when deciding on your meal plan. Will you have time to sit down and enjoy your lunch or will you need something on-the-go? Depending on what you have going on, you can customize your meal plan accordingly. If you're also the type of person who gets tired of eating leftovers or the same food twice, add options!
Here's an example of what our meal prep looks like:
2. Say goodbye to impulsive buys. Now that you have your meal plan, this is where the fun begins. Reference your meal plan recipes to see how much you'll need for each dish. Once you have your list of ingredients, it's time to go shopping! More importantly, if you have don't have containers to store all of your prepped food, make sure you pick those up too. We recommend glass containers and mason jars that are BPA-free, leak-proof, and microwaveable.
3. Turn on a podcast and begin prepping. If you're all about optimization, get cooking as soon as you get home from the store. A common tip among meal prep connoisseurs is to carve out time on the weekend like Sunday night to do all the shopping, cooking, and prepping. Those three hours you spend will save you tons of time during the week! If you're not a fan of your microwave and want your meals fresh, simply cut up your vegetables and portion out each meal in containers without cooking anything just yet (this alone will save you time!).
Using our sample meal plan as a reference of what meal prepping might look like…
Breakfast – Mixed berry overnight oats (five jars): This one's super easy. Measure out your oats, berries, milk, and almonds, and combine ingredients in a jar. Let sit overnight, then grab and go in the morning!
Lunch – Spinach salad with roasted sweet potatoes: For this recipe, go ahead and make the dressing, sweet potatoes, and chosen protein since those will keep in the fridge without a problem. Since washed spinach can wilt in the fridge, store each unwashed portion in a Ziploc bag and keep separate from the other ingredients in your glass containers. Then, the morning or night before, rinse the spinach and mix the ingredients together with the pre-made dressing. You'll have a fresh tasting salad in no time.
Dinner – Baked pesto salmon, quinoa, and roasted squash: Raw fish is tricky since it should only be stored in the fridge for one to two days. Fortunately, you have options! Cut each portion of salmon and layer on the pesto sauce. Keep two salmon filets in the fridge, but store the rest in freezer bags that you can defrost the night before. Cook five servings of the quinoa and roasted squash, and portion each out in a glass container. Not only will you have a delicious, balanced meal in less than 20 minutes, you'll also have extra time in the evening to relax!
Snacks – 1 apple with almonds, and chocolate covered pretzels: Two words: Ziploc bags.
Just a friendly reminder: Don't get militant about your meal prep. It's all about creating more flexibility in your schedule so don't sweat it if you don't stick to your meal plan the entire week. Life happens, and sometimes the margarita and tacos are necessary…especially on a Tuesday.
xx, The FabFitFun Team