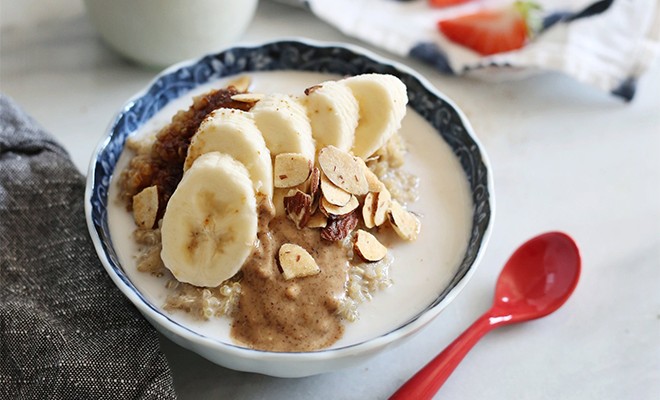 Good morning! Yesterday I got into fall spirit and splurged on some new couch pillows, a nice warm-autumn toned blanket, a fuzzy decor rug, and a clove and apple spiced candle for my living room. I work from home so I love changing up the space to keep it fresh and new. My breakfasts are also slowly transitioning from summery açaí bowls to warm porridges. I'm not complaining though, there's something so magical about fall weather!
So as some of you guys may know, I've been going gluten free, dairy free, soy free, and egg free for 21 days as part of the Elimination challenge I'm doing to test if I'm intolerant or have any sensitivities to any of these foods. So far going gluten free hasn't been that challenging because there are plenty of health food stores and restaurants serving GF options where I live.
That said, I've been experimenting in the kitchen to find a perfect oatmeal replacement but just as tasty and creamy. I decided to give quinoa porridge another go. I wanted to mask the earthy-grainy-bitter flavor of quinoa so I added one mashed banana, cinnamon, and coconut milk to the recipe and it turned out really really good!
I made this porridge for my best friend and she told me it was:
Delicious
Perfect amount of sweetness
Perfect amount of creaminess
Warming
Filling
More textured than oatmeal (not mushy)
Perfect paired with tart strawberries and almond butter
Gluten Free, soy free, dairy free
Creamy Cinnamon Banana Quinoa Porridge
Ingredients
1 cup quinoa
2 cups almond milk
1 ripe banana
2 tablespoon coconut canned milk (plus more for serving)
Pinch of salt
2 tablespoon coconut sugar
1/4 teaspon cinnamon
1/2 teaspoon vanilla extract
Chopped nuts (pecans, almonds, etc.)
Berries and almond butter for topping
Directions
1. Rinse the quinoa and let it soak for 10 minutes. This helps get rid of the natural bitterness of the quinoa. Meanwhile, gently bring the almond milk to a slow boil over medium heat. Stir frequently with a wooden spoon. Once the milk starts to bubble a little, stir in the drained quinoa and pinch of salt. Cover the pot, and let the quinoa cook over low simmer for 10 minutes.
2. Meanwhile mash a ripe banana with a fork in a separate bowl and set aside.
3. Remove the lid of the pot after 10 minutes and add in two tablespoons of coconut sugar (or maple syrup), the mashed banana, cinnamon, and vanilla extract.
4. Cover the porridge again and let the quinoa cook on low for another 10 minutes. Check and stir occasionally so quinoa doesn't get overly dry. You can add additional coconut canned milk here if it becomes too dry.
5. Once the quinoa reaches a consistency of a creamy oatmeal, remove from heat and serve into a bowl. This portion serves up to three medium sized bowls of quinoa. You can refrigerate any left overs and heat it up the next day. It will still be just as delicious 🙂
6. Sprinkle on additional coconut sugar, chopped nuts, almond butter, sliced berries, and banana. So yum!!
Let me know if you try this recipe out and if you enjoyed it! I love this alternative to oatmeal!
For the latest and greatest info on health and fitness, be sure to check out rrayyme.com!
---
This story was written by a fab member of our Ambassador Network.