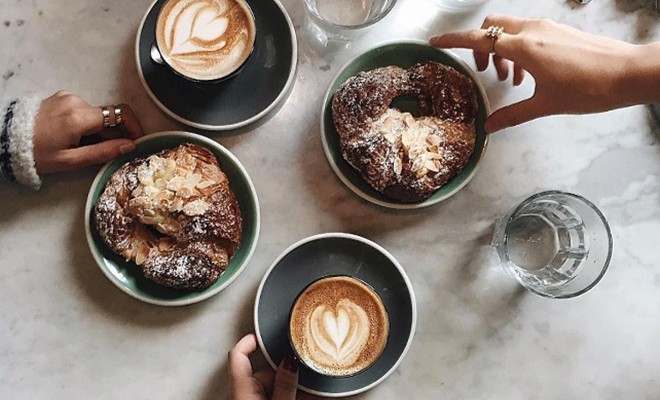 @melissamale
Many of life's meaningful moments happen over a cup of coffee. Whether you're hanging out with roommates or making amends with a long lost friend, it's amazing how a simple cup o' joe can bring people together.
However, time spent doesn't always equal quality time, especially when there are tons of distractions (#coffeeflatlays).
So we asked Ryan Schneider (co-founder of The Created Co., a company that's all about products that bring intention and empowerment) for some sage advice on how to connect with people in a purposeful way. (In fact, we felt so connected to the company that we included their gorgeous to-go coffee mugs in our FabFitFun Fall Box.)
Here are some of his tips:
"Choose the Right Coffee Shop"
Environment matters! You want to pick a coffee shop where the drinks are delicious, seating is comfortable, and parking is easy to find. And make sure the shop has a good vibe or aura, as you both want to be comfortable enough to focus on your conversation.
"Put Your Phone on Airplane Mode"
Don't touch your phone! Or put it on airplane mode so you're not distracted by incoming texts and Snapchats. It can easily take away from your conversation when you look down at your phone — yes, even for a split second. Give your full and undivided attention to your date.
"Ask Good Questions"
Be interested in your friend's experiences! Ask them how they've been, what they've been doing, etc. Don't you dare catch up on the latest Kardashian gossip. Instead, make an effort to delve into their lives to truly understand what they've been going through, whether it's good or bad. It'll show your friend that their growth matters you.
"Offer to Buy Your Friend's Coffee"
A cup of coffee is around $3-$5…it's not that much money, if you think about it. So offer to buy your friend's coffee! Even this simple gesture will go a long way.
"Snap a Photo Together"
Don't forget to document this moment together! No, it's not so you can post on social media to prove you both hung out. Obviously, you can but, rather, it's for you to remember the date you had with your friend. It's easy to forget the small yet meaningful moments in life that were created with friends but looking back on photos will remind you to be thankful.
xx, The FabFitFun Team
P.S. Psst! Have you signed up for the #FabFitFun box yet? Don't miss out on $200+ in amazing beauty, fitness, fashion, and lifestyle products every season. Join today!
To get the most out of your box products, make sure to check out the Insider page.