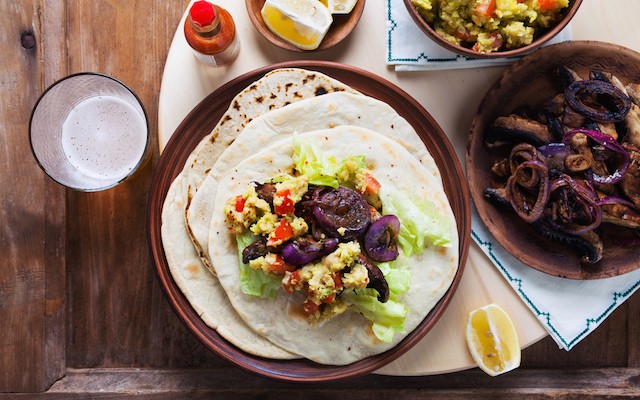 Something about eating tacos makes us feel like we're on vacation. Maybe it's because we love to pair tacos with cold skinny margaritas and sunshine, who knows?!
What we do know is that we're living for these vegan tacos! Tempeh is a great source of vegan protein, and when marinated properly, it can actually be better than your other meat options. Healthy, quick, and satiating, this recipe has become our go-to for nearly any occasion — post workout, pre pool party, dinner…we can't get enough.
Vegan Tempeh Tacos
Ingredients:
1 8 ounce package tempeh, sliced into 1 inch-thick pieces.
6-8 flour tortillas (or any of choice)
1 large red onion sliced
1 tablespoon raw honey
1/2 cup liquid coconut aminos (or soy sauce)
1/2 teaspoon paprika
1 teaspoon onion powder
1 teaspoon garlic powder
1/2 teaspoon turmeric powder
1/2 teaspoon cumin powder
Kosher salt and black pepper to taste
For Toppings:
2 large tomatoes, diced small
Handful of cilantro, roughly chopped
1 lime, juiced
1 small mango, diced small
Guacamole (recipe here)
Directions:
1. In a large mixing bowl, marinate the tempeh and onion slices with the coconut aminos, honey, paprika, garlic powder, onion powder, turmeric, cumin, kosher salt, and black pepper to taste. Let marinate for 15-30 minutes, and prepare toppings during that time.
2. In a small mixing bowl, add the tomatoes, mango, cilantro, lime juice, kosher salt and pepper to taste. Mix well then set aside for when ready to add to tacos.
3. In a skillet, add the marinated tempeh and onions on medium high heat. Cook the tempeh pieces on each side for 3-5 minutes until nicely browned, a total cook time of 10 minutes.
4. Heat tortillas on stove top when ready to eat, and place the onion-tempeh mix on tortillas first, then add the guac and tomato-mango salsa on top and enjoy!
xx, The FabFitFun Team