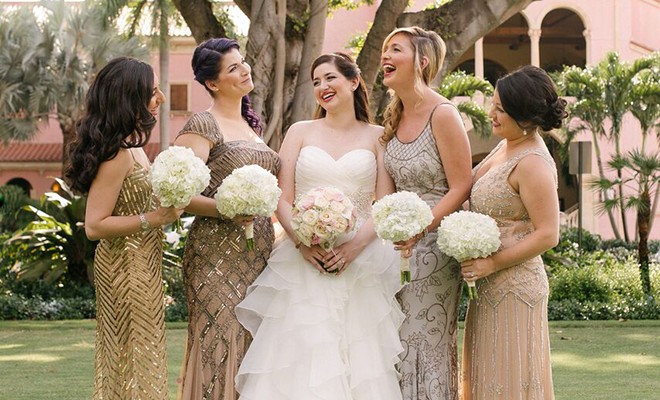 So, you've found your man…but before you say, "I do" you need to choose the ladies who will be by your side and get you down the aisle.
Every bride — whether you're totally chill with no wedding jitters or a bridezilla — needs a little help. If you need support, an assistant, a life coach, a bachelorette party planner, or all the above, Bridesmaids For Hire has you covered. That's right, bridesmaids for hire. It's the ultimate full-service wedding helper you probably never knew was available or even needed. Feels like a romantic comedy movie waiting to happen #amiright?!
The brains behind the operation, Jen Glantz, posted an ad on Craigslist offering her services as a hired bridesmaid for strangers in 2014 — and it quickly went viral.
"I was a bridesmaid for my friends so many times that when I was behind the scenes at weddings, I noticed a gap in the wedding industry," said Glantz. "There was nobody whose job it was to be there for the bride. If she had a wedding planner, that person was busy with vendors and the venue. If she had bridesmaid, they were busy getting ready themselves. I decided to use my skills and knowledge as "always the bridesmaid" and be there for strangers who needed a service like this."
Since the demand was so high, Glantz had to start outsourcing.
However, it's not just for brides. This service also caters to maids of honor and bridesmaids (that aren't hired) who need some extra help. Think about it: your best friend has entrusted you to be her rock on her big day, you're not just a bridesmaid but her maid of honor, and you don't want to let her down. There's no shame in seeking out some help to calm your nerves — and don't worry, it can be a secret.
It'll cost you, though. A full-service bridesmaid will start at $2,000 and will be with the bride before the wedding, stand by her next to the altar, make sure all your to-do lists get checked off, and provide all the emotional support one could ask for.
On the website, you can browse different packages that cater to brides, bridesmaids, maids of honor, the works. For example, the "Help! I'm a Maid-Of-Honor" package which starts at $350, includes phone, Skype, and/or coffee sessions with Glantz during which she'll help you make a month-by-month to-do list, plus research and help plan the bridal shower or bachelorette party. The seasoned pro can also offer you advice and guidance on how to handle any bride.
What about if you need help writing the speech of a lifetime? For $175, writer's block becomes a non-issue.
The clientele ranges from ladies in their 20s to their 60s, all over the United States, with a wedding budget anywhere between $20,000 to $100,000+.
All of the hired bridesmaids have been vetted by Glantz, whose ideal candidate is relatable, great with people, and has a ton of patience. Also, no drinking on the job. The level of secrecy involved varies from wedding to wedding — sometimes everyone knows a bridesmaid has been hired, and other times even the groom has been kept in the dark.
You're probably wondering, what's the craziest experience she's had on the job? "I was working a wedding for a bride who told me that she hated the groom five minutes before her wedding. She wanted to end the whole thing, and she had a couple hundred guests waiting for her to walk down the aisle. I told her before she ended the wedding she had to talk to the groom for ten minutes. She did. After the ten minutes, they decided to get married and would work on their issues afterward."
Would you hire a bridesmaid for your wedding? Weigh in on the comments below.
xx, The FabFitFun Team