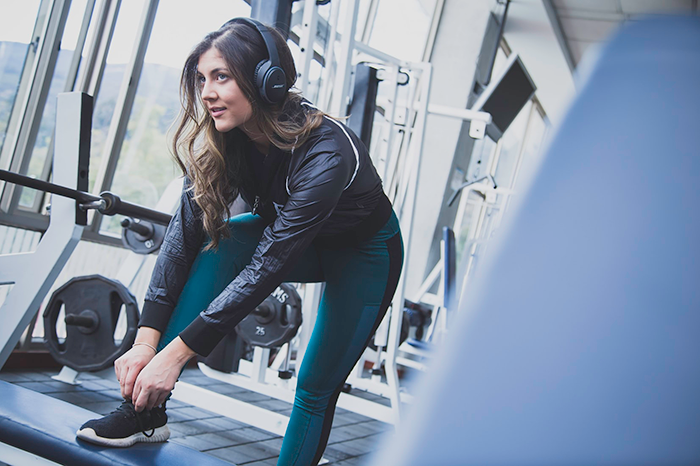 Feature Image by Juan Pablo Rodriguez
If you've decided that 2020 is the year you're finally going to get in amazing shape, know that the gym doesn't have to be an intimidating place for any fitness newbie. Many people are just starting their fitness journey for the very first time too!
While many gyms and fitness clubs are sure to offer a wide variety of toning and sculpting equipment, you should know that there other ways to make the most of your gym membership. To make sure you're taking advantage of everything your gym has to offer, we tapped three personal trainers to share some helpful tips.
Get a tour of your gym
Although certain areas of the gym may appear to be outside of your comfort zone from first glance, NASM-certified personal trainer Tracy Rodriguez always recommends getting a full scope of your workout space. Chances are, you may be missing out on something you really could enjoy, so she always advises taking the time to ask a staff member to give you a full tour. "Getting a tour and asking questions on how to use equipment can give you the confidence to do things in your fitness routine that you wouldn't have otherwise," Rodriguez tells FabFitFun. "Most of my clients were terrified of the squat rack until we incorporated it into our training sessions."
Try a complimentary training session
Once you've taken the tour of your gym, Rodriguez also suggests looking into booking a complimentary training session with a trainer. Doing so can help you develop a sound workout routine that will help you stay committed to any of your health goals. "Almost every gym offers a complimentary initial training session with a personal trainer," she explains. "This is your chance to discuss your goals, get guidance on form and find out the most effective way to use your time in the gym."
Find support in a group class
Classes at your gym (which are usually free) are a great place to interact with others, according to Rodiguez, as they allow you to build a tight-knight community. "Having community and support from others is one of the most effective ways to make sure you stick to your 2020 fitness goals," she says. "Group fitness classes at your gym are a great way to build new friendships with people."
Use the gym for things you can't do at home
Though a sweat session on the treadmill can be nothing short of exhilarating, personal trainer Kathryn Alexander advises using the gym for exercises and activities you can't do at home. This especially rings true for those trying to build strength. "You can do cardio at home (or outside), but unless you have a significant amount of weights at home, you'll need to build strength at the gym," Alexander tells FabFitFun. "Strength benefits everybody at any age."
Have variety in your routine
Although developing a solid workout routine is important, Stan Kravchenko, creator of ONEFIT, says variety is equally significant. "Maximize your gym membership by keeping it fresh," he explains. "Stick to targeted body groups per workout, but mix up the workouts you are doing."
Always come prepared
Kravchenko also suggests that making the most of your gym membership also means taking advantage of any amenities available at your gym. "So many gyms have amenities that are underutilized — and you're already paying for them," he explains. "Bring a change of clothes, [and] hit the sauna (or shower) if you have extra time after a workout." Similarly, Kravchenko adds that it's equally helpful to pack a bag, especially since some fitness clubs have places where you can relax in between classes. "Pack your computer and use your free time between meetings at the fitness club," he recommends. "My gym has a fireplace and salt room that I've found many of my clients working from before heading back to work."
xx, The FabFitFun Team