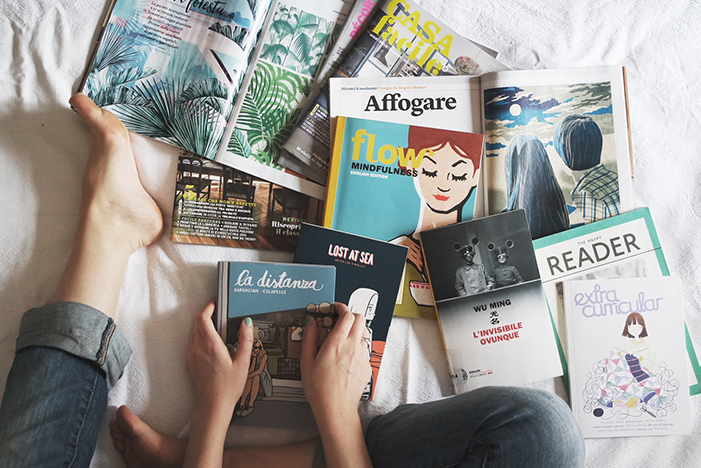 Feature Image by Giulia Bertelli
Raise your hand if "travel more" is one of your New Year's resolutions for 2020. You're not alone! While it's one of the more popular resolutions, it can also be one of the most expensive.
But what if you could travel around the world and back again without leaving your couch? That's right, just open up one of these books, and you'll embark on the trip of a lifetime.
Journey from Spain to Chile with Roser and Victor, two refugees who get married to survive. You'll experience their fear as they arrive in a foreign land and their joy as they discover their new home.
---
A popular book club favorite and soon to be TV series, this novel follows Count Alexander Rostov as he lives out his days next to the infamous Kremlin in Moscow, Russia. You'll instantly be surrounded by Russian culture and history.
---
Ever wished you could step into the setting of your favorite book? Now you can. Travel from Asia to Australia, then journey to Africa and the Middle East, and see how the landscape, culture, and local attractions inspired writers from around the world.
---
Rose Daniel is determined to find her brother who's been missing for eight years. So, she travels from London to Spain to unravel the mystery of her brother's whereabouts and the woman who was carrying his child.
---
The Ottoman Empire ruled over vast lands for over 800 years, but it's left a lasting impact. Join the author as she investigates signs of this ancient empire in modern day Turkey, Palestine, Beirut, and nine other countries.
---
Whether you've seen the movie or not, you'll fall in love with the beautiful language, mouthwatering dishes and the Italian scenery. Perhaps you'll also find your true self – just as the author did when she moved to Tuscany and bought a dilapidated villa.
---
What happens when you quit your job and go backpacking across South America? A lot of adventures, some hilarious bits of advice and some crazy travel stories.
---
From Switzerland to Qatar, Weiner is hot on the trail of what makes people happy. His search takes him to the "happiest places on earth" and his adventures and revelations may just have you feeling a little bit happier.
---
Whether you're in a Gilmore Girls phase, figuring out your mother-daughter relationship or just looking for a cute travel story, this one is for you. Mother-daughter duo Mia and Claire take off on the trip of a lifetime and come away with unforgettable memories and a deeper understanding of their relationship.
---
This is every bibliophile's dream guide to travel. It includes over 500 literary spots to take you across the United States and all over Europe where your favorite authors lived, worked or visited.
xx, The FabFitFun Team