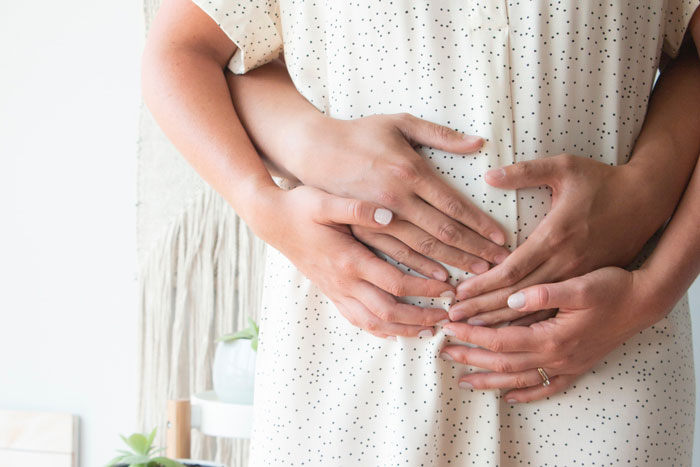 Feature Image by John Looy
One in four pregnancies ends in miscarriage yet it's still a topic that isn't discussed enough. "Along with physical symptoms, many women who have experienced miscarriages suffer from grief, self-blame, fear about their next pregnancy, and lack of trust in their bodies," says Jessica Zucker, a Los Angeles-based psychologist specializing in women's reproductive and maternal mental health. Without any formal grieving process in place, parents are often left feeling helpless.
So we asked Zucker to share three ways you can heal or help support someone who's going through a miscarriage.
Enlist support
Many people don't know what to say to someone who has had a miscarriage and end up offering trivial cliches instead of help, which is why it's even more important to find a support system of people who know how to handle your situation. Zucker recommends seeing a therapist, going to a support group (if you don't feel too triggered by it), or joining online communities.
Grieve
"Grieving can be as unique as the losses themselves," says Zucker. However, some ways that parents grieve miscarriages include naming their child, creating ceremonies, getting tattoos that represent the baby, sharing their stories, going to therapy, joining communities for people who have had miscarriages, helping others who have been through the same thing, or grieving silently. The important thing here is that there is no wrong way to grieve.
Tell your loved ones what you need
"It can be tough to know what to say after someone loses a pregnancy, and, many times, loved ones mean well but say things that don't quite land as they intended," says Zucker. If you want your loved ones to support you, you can express what you need to them. This may mean simply asking them to express empathy and be there when you want to talk. "It's helpful when loved ones are consistent in their care following a loss," says Zucker.
However you choose to heal, know that whatever helps you is valid, and so are your feelings. The grieving process will take however long it takes, and the important thing is to honor your process – whatever it looks like.
xx, The FabFitFun Team