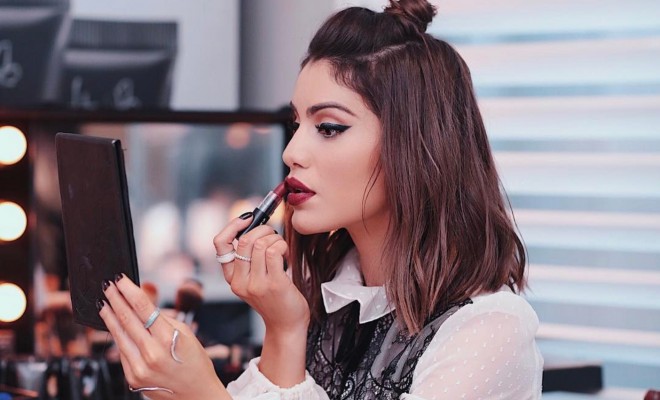 @camilacoelho
Ever feel like you're the only person out there who can't make a red lip work? Don't fret, it just means you haven't found the shade of red that works for you!
You should know there's more to a red lip color than it just being a vibrant scarlet or a deep wine — some shades have cool blue undertones, while others have warm orange undertones. So depending on your skin tone, even the slightest difference in red shades can be a deal breaker when it comes to finding the perfect shade.
Ahead, we have a list of various red hues that complement different skin complexions. So sit tight because you're well on your way to rocking a sexy red lip, too.
Fair Skin with Cool Undertones
For those of you with cool-toned complexions, opt for a red with blue undertones. The blue undertones in the red will flatter your face without washing you out. Raspberry reds are also great for adding a bit of warmth to your complexion without clashing with your skin tone. For fair complexions with cool undertones, we recommend a classic red like MAC's Russian Red.
Light to Medium Complexions with Warm/Olive Undertones
Fiery reds are your go-to! The orange-based reds will warm up the complexion while adding that pop of glam. But make sure to pay attention to the balance of the red and orange — if the lipstick is too orange, the color may make your teeth appear more yellow. Brick reds are also great, especially for brunettes who feel like rocking a dramatic look for a night out on the town. The Kylie Cosmetics Liquid Lipstick in 22 is your best bet if you have warm and olive undertones.
Medium Complexions with Neutral Undertones
Take out the orange and blue undertones and you've got yourself a true red. A true red is best if you have a neutral undertone because the color keeps the look classic without leaning towards one end of the spectrum. Plus, a timeless red as can bring life to any outfit and add that much-needed glam factor. One of our faves? Check out Anastasia Beverly Hills Liquid Lip in American Doll.
Cocoa Complexions with Warm/Neutral Undertones
If you have a deeper complexion, "the brighter, the better" is a good rule to go by. Vibrant oranges and pinky reds complement the skin tone by bringing a nice contrast while adding a fun and gorgeous pop of color. Don't be afraid to whip out the neon because neon reds are stunning against deeper complexions, especially orange reds like Kat Von D's Everlasting Liquid Lip in Outlaw. If you're looking for something a bit more subtle, MAC's Ruby Woo is a vivid blue red that looks beautiful on dark skin with more neutral undertones.
xx, The FabFitFun Team