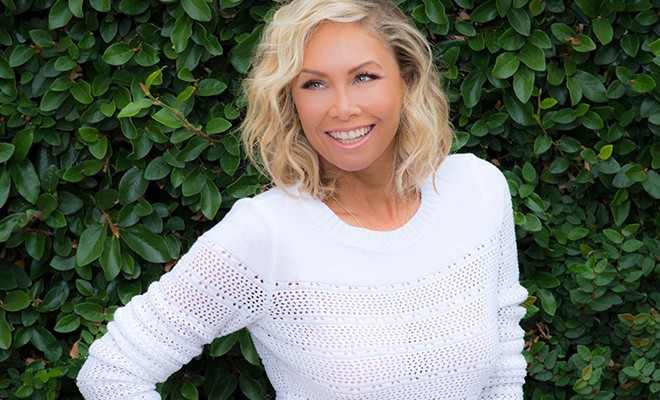 We don't know about you, but cardio isn't exactly our forte. The thought of running miles and miles on a treadmill doesn't get us pumped about hitting the gym. But what if there was a way to get in that much needed sweat sesh without it feeling like such a drag?
We've recently become obsessed with The BOD by Kym Herjavec because the Dancing with the Stars champ took everything she loved about her days as a professional dancer to create a full-body workout that you'll actually want to do. Her cardio-based dance routines will slim you down and tone you up, but the best part? You'll have so much fun — even if you're not much of a dancer.
Not only that, we're so excited to partner with Herjavec on FabFitFunTV; check out her amazing videos starting today and don't forget to tune in to our Facebook Live where she'll teach a fun 15-minute workout. You can also try out her classes at her Beverly Hills studio or find more videos on her site.
Meanwhile, read our interview with the dancing queen as we chatted about everything from how she stays motivated to work out to exclusive fitness tips and more.
What's your favorite part about helping people get in shape?
My favorite part is seeing their overall transformation including their physical and emotional. I believe everyone should strive to be the best version of themselves.
Do you have any motivational quote(s) you like to live by?
I would always tell my partners on Dancing with the Stars, "Let your light shine, you can do this!" I think it's best to find a mantra that motivates you. Write it down and post it on the wall in front of where you work out — whatever it takes to refer back to those words of inspiration, so you keep pushing yourself to continue.
How do you encourage yourself to work out when you just don't feel like it?
I tell myself I'll just do 10 minutes but once I start my workout I end up doing a lot more. I always feel more energized and happy when I complete my workout.
Is there one particular client success story that makes you smile?
One of my new clients is a mother of four children who never had the time to work out with her busy schedule and found it difficult to start working out again. She started taking my classes at The BOD and I feel so proud that she says it completely changed her life. She realized that working out can be fun and is a great stress reliever.
How do you hope your clients feel after taking one of your workouts/classes?
I hope they feel energized and happy. They have accomplished their goal of getting in shape and exercising for the health benefits while being completely entertained and loving the fun process.
How do you think workouts are changing in the digital realm and with the rise of fitness on social media?
Nowadays you can work out literally anywhere in the world, which is amazing! As an example, our classes are available online so anyone can benefit from the fun combination of dance and exercise.
Can you share an exclusive fitness tip with us?
If you don't have much time in your day but want to work out, try initially setting aside at least 30 minutes. Then, do a combination of cardio and sculpting with light weights and multiple reps. Always stay hydrated! It's even best to start your day by drinking hot water with lemon.
xx, The FabFitFun Team