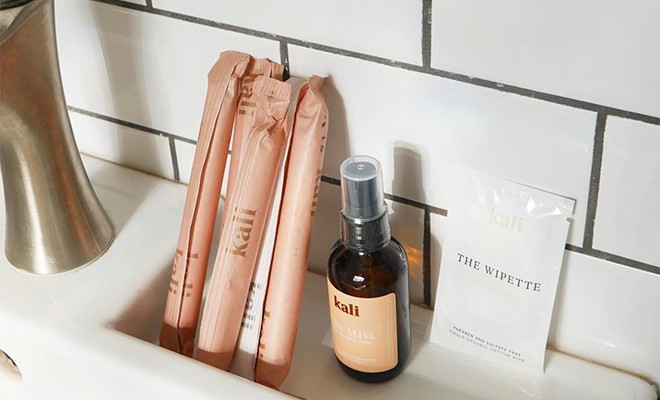 @therosewateredit
Every woman's time of the month is different. It might be a hassle-free kind of period or an "I hate everyone and everything" type of situation. Regardless, it happens…and we've all had those moments when it started unexpectedly and we didn't have pads or tampons on hand.
Luckily, we've found a solution to make your period a bit easier and to make sure you're never left without the essentials: period subscription boxes. From having organic tampons delivered to your doorstep each month to the boxes that include chocolate for the inevitable cravings, we've rounded up some of the best services out there.

Monthly Gift
This company is all about empowering you to #ownyourperiod. You can get tampons, liners, or pads delivered straight to your doorstep for as low as $10. On top of that, Monthly Gift also has a super easy app that helps track your period! You can even set reminders to take your birth control.
---
The Flex Company
Tired of tampons? Try FLEX, a new way to experience your period. You can wear it for up to 12 hours, which means less changing and less inconvenience. It also helps relieve cramping, eliminates bloating, doesn't leak, and is hypoallergenic and disposable (more sanitary than a cup)!
---
Le Parcel
This service gives you 18 tampons per month, all from brands you know and love. Aside from the essentials, your box also comes with premium handmade chocolate marshmallows and an occasional gift #swoon. Your package arrives every 30 days, just in time to make your period a little more bearable.
---
LOLA
If you like to be in control, this subscription service might be best for you. Choose from organic cotton non-applicator tampons, applicator tampons, ultra thin liners, and ultra thin pads with wings to create your perfect box of period goodies. You also get to choose how often you need it – if you like to stock up rather than purchase products every month, this is a great option!
---
Cora
With Cora, you tailor your subscription and you get to try your first box for free (you just payshipping)! We're suckers for great packaging and Cora's is perfection. From the lipstick-sized cardboard capsules to the little black clutch, you'll be riding the wave in style. Bonus: the tampons are 100% certified organic, biodegradable, and hypoallergenic.
---
Kali
You never have to dash to the drugstore again with this service. It includes everything you might need during your period including organic cotton tampons, pads, wipes, panty liners, and a "pampering product" every time. Your shipment will arrive by the first of the month with your choice of absorbency! This non-commitment service is ideal for skipping a shipment or canceling at any time.
---
OleaBox
If you're looking for wholesome feminine products and goodies, this is the box for you. OleaBox gives you products that are good for you and the environment. They even include non-GMO chocolate, organic tea, and ibuprofen! You choose what you want, decide when you want it, and it arrives before you need it, so you're never left uncovered.
xx, The FabFitFun Team