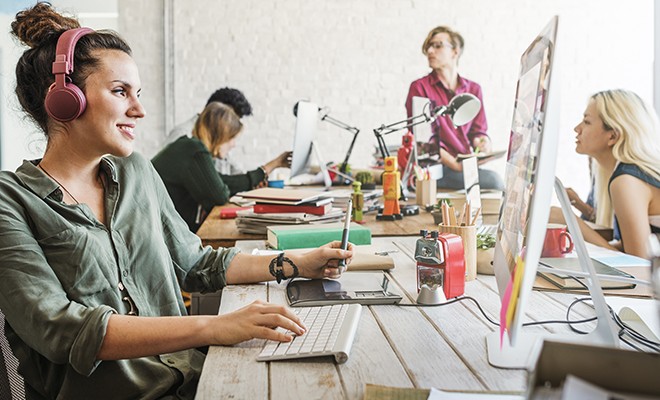 You steer clear of microwaving brussel sprouts and bring in donuts every other Friday, but does that actually make you a good co-worker?
While you might think you're being thoughtful to your deskmates and teammates, it's easy to overlook the rules of office etiquette.
So before you walk into your co-worker's office or leave your leftover salad on your desk, here are three practical ways you can be the type of person everyone wants to work with.
Communicate About Communication
Everyone has different preferences when it comes to communication. And while certain offices have expectations on which communication tools to use, there are nuances worth paying attention to. Is dropping by and asking your co-worker a quick question OK in her book, or would she prefer to use Slack? Do emails create more confusion for some, but aid in understanding for others? Learning how your co-workers like to communicate and sharing your own preferences as well can improve workflows and relationships in the office. A good place to start is by simply asking! "What's the best way to communicate with you for this upcoming project? Is that what you prefer in general?" Or as some might prefer to be asked, "What's the least annoying way that I can bother you?"
Never Underestimate a Smile
When you've got a lot on your plate and work is overwhelming, staying positive can be tough. Why pretend to be Elle Woods from Legally Blonde when you're effortlessly channeling Wednesday Addams? Unfortunately, stress is the ultimate Debbie downer and when it's not managed well, your co-workers will experience the brunt of it. There are plenty of ways to manage your stress, but sometimes a quick fix is what you need — and that' s when smiling comes in handy. A study from the University of Kansas found that fake smiling can actually improve your mood and decrease stress, whether you're actually happy or not. So fake it 'till you make it!
Keep Your Workspace Clean
How you maintain your workstation can directly impact those around you. The accumulation of old coffee mugs, piles of completed project folders, and leftover food cartons on your desk might not phase you, but what about everyone else? The last thing you'd want is for others to interpret your mess as disrespect, especially in a shared workspace. It sounds inconsequential yet a clean workspace is an important part of your professional image – as well as that of your company's. Clutter and disarray in your workspace can communicate the wrong message about your personal organization and productivity, too. So dump out the old coffee cups and takeout boxes – your co-workers will thank you for it!
xx, The FabFitFun Team