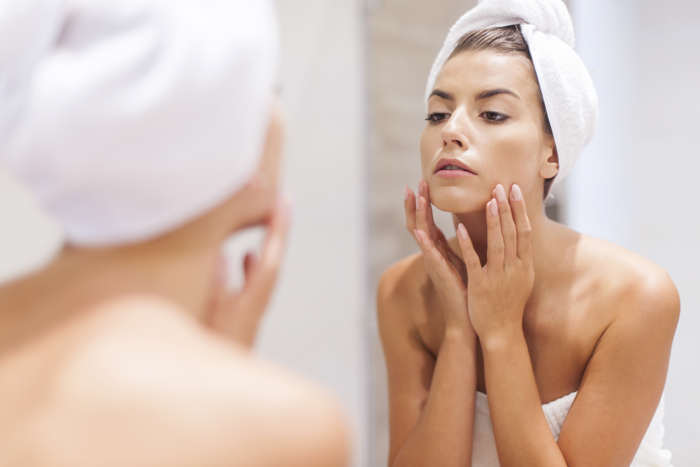 After treating yourself to a facial, the last thing you want to see is a crop of new blemishes on what should be a glowing face — but the sometimes painful extractions can cause major post-facial skin irritation.
Luckily, there are precautions you can take to stop the breakouts. Ahead, industry experts share how to avoid that dreaded post-facial purge.
Understand that it's normal
"Skin sometimes purges a day or two after because extractions cause the skin to get rid of the toxins hanging out just below the surface. When this happens, the skin can break out in whiteheads or pimples, and it can be inflamed and red," says Liana Cutrone, skin therapist at Heyday. "It all really depends on your skin type and what breakouts you are prone to." Be sure to ask your esthetician what to expect, and make sure to let her know of any potential irritations.
Ask for high-frequency machinery
To minimize new bumps and blemishes, Cutrone recommends asking your esthetician to go over extracted areas with a high-frequency machine because it can kill bacteria, reduce inflammation, and improve circulation. She also recommends using blue LED light therapy for its anti-inflammatory and bacteria fighting properties.
Avoid makeup
The last thing you want to do is reverse all the work your esthetician just did on your skin. "You need to lay off excess product for 24 hours after a facial — that includes makeup, foundation, powders, and even your brushes since it harbors bacteria," says Dr. Lamees Hamdan, founder and CEO of Shiffa. To hinder any new bacterial infections, Dr. Hamdan suggests adding a tiny amount of tea tree essential oil to toners and cleansers.
Try home remedies
If your blemishes are swollen, Carly Pilar, founder of Austin Skin, suggests using her favorite at-home remedy: ice. "The cold will take down the redness and puffiness in under five minutes and help the inflammation come to a white head," she says. "Once this happens, gently squeeze the white head and pus out and follow with a spot treatment."
Use the right ingredients
"To maintain that glow, you should use a chemical exfoliant to help keep your skin clear and fresh. A chemical exfoliant is a serum with AHA/BHA or retinol, which will help keep the skin free of dead, dull skin cells that lead to clogged pores and breakouts," says Pilar. But be cautious when exfoliating your skin because it could be more sensitive than usual from the extractions.
Stay protected
To protect and prevent any extracted pimples from causing discoloration and scarring, Georgia Louise, a celebrity facialist, suggests avoiding direct contact with the sun and always wearing a protective layer of SPF.
What post-facial remedies have worked for you? Let us know in the comments below!
xx, The FabFitFun Team