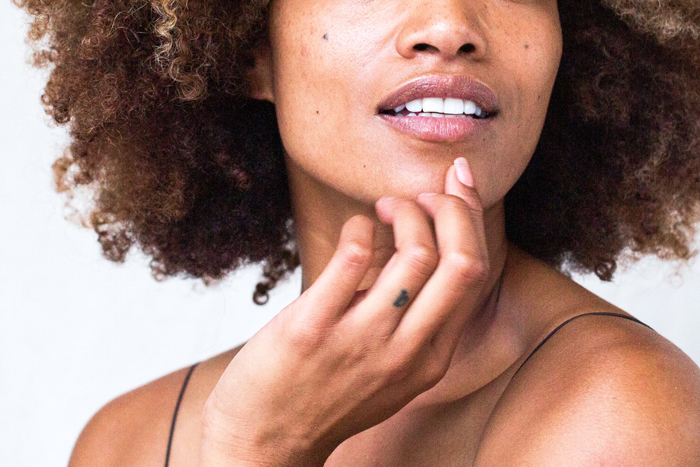 Feature Image by Park Street
Ever since the CDC recommended the use of wearing face masks in public, you may have had to deal with a problem you've likely never had before — mask-ne. The good news is, you're not alone in this. Even dermatologists have experienced this little annoyance, and they shared how they treat their own mask-ne. 
"People experience breakouts or irritation where their skin comes into contact with an object repetitively," dermatologist Sandra Lee, aka "Dr. Pimple Popper" and the founder of  SLMD Skincare, tells FabFitFun. "Wearing a mask for a long period of time promotes occlusion, or the clogging of the pores with dirt, bacteria, dead skin cells, and oil. Increased humidity under a mask due to breathing, speaking into the enclosed space, wearing makeup, having oilier skin, etc. also promote acne to occur in that area."
One thing Lee does to prevent mask-ne is not wearing makeup or using heavy topical products on the lower half of her face. "No one will see that area when you are wearing your mask and wearing less makeup/products means that your mask will get less dirty, and this will minimize the risk of breakouts," she says.
Another one of her hacks is spraying the inside of her mask with the SLMD Salicylic Acid Body Spray. This helps to keep the skin underneath clean and prevents pores from getting clogged with oil or dirt. According to Lee, acne-fighting ingredients like benzoyl peroxide and salicylic acid are great to incorporate into your routine to gently but effectively improve acne.
Here's what other dermatologists are doing to treat their own mask-ne.
Using the double cleanse method
"For me, my mask-ne mostly manifested as clogged pores and blackheads so I've been trying to integrate more comedolytic (pore blockage-busting) ingredients into my routine," dermatologist Angelo Landrisicna, MD, tells FabFitFun. "I've continued using retinoids such as adapalene and tretinoin throughout the pandemic in order to help with this. I also like to use a salicylic acid cleanser once per day (my go-to is CeraVe's SA cleanser). I've also found that the double-cleanse method of using an oil-based cleanser followed by a water-based cleanser before bed has kept more pores clearer."
Cleansing the face with salicylic acid wash
"I gently cleanse my face with salicylic acid wash after removing my mask and apply a mild retinoid nightly to unclog pores and keep them clear," dermatologist Susan Bard, MD, tells FabFitFun. "For more inflammatory acne lesions (ie. pustules, pink bumps) I switch out to a benzoyl peroxide 5% wash."
Having two types of spot treatments on hand
"In a job that requires mask usage for at least eight hours per day, mask-ne breakouts are almost inevitable," dermatologist Onyeka Obioha, FAAD, tells FabFitFun. "I also always have two types of spot treatment on hand: INN beauty's pimple paste to sleep with at night, and La Roche Posay's Effaclar Duo Benzoyl Peroxide 5% Gel to apply in the morning." 
Using facial pads pre-soaked with salicylic acid
"My colleagues, nurses, and I found facial pads presoaked with 2% salicylic acid very helpful and relatively inexpensive if used before and after using a mask," Viseslav Tonkovic-Capin, MD, dermatologist and editor at DermBoard, tells FabFitFun. "Salicylic acid (a botanical from the willow tree) will keep pores clean and open. It will prevent the buildup of dirt and skin oil, and will eliminate acne-causing bacteria."
Applying a thicker moisturizer at night
"I'm allergic to benzoyl peroxide, so I can't use washes or topical that contain this excellent acne-fighting ingredient," dermatologist Tsippora Shainhouse, MD, FAAD, tells FabFitFun. "Instead, my a.m. skin care routine includes using a sulfur-based face wash, an anti-oxidant serum, sunscreen, and azelaic acid cream. At night, I use a gentle gel or creamy cleanser, topical retinoid, and a thicker face moisturizer that contains protective barrier-repairing lips and ceramics. I personally like SkinFix Triple Lipid Barrier+."
Using an exfoliating cleanser
"I use an exfoliating cleanser (Obagi Clinical Kinetin+ Exfoliating Cleansing Gel) twice a day and a prescription-strength retinoid (Arazlo) every night to gently exfoliate the skin and prevent clogged pores," board-certified dermatologist, Elyse Love, MD tells FabFitFun. "I also make a habit of washing my face as soon as I return home for the day." 
xx, The FabFitFun Team