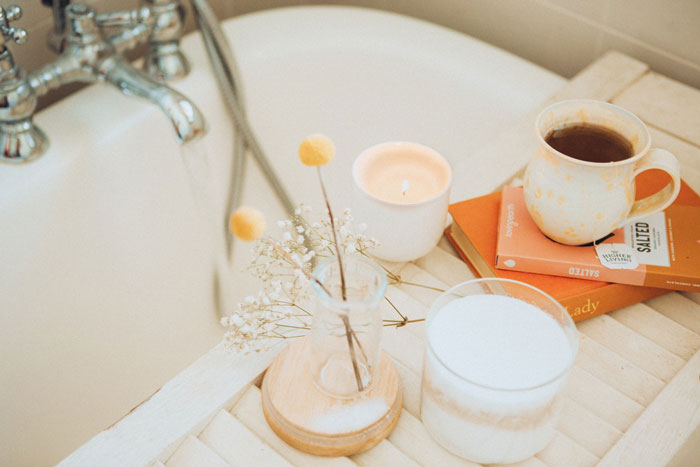 Feature Image by Maddi Bazzocco
Nothing feels as good as a hot bath after a long day, but there's more to taking a bath than just laying in the tub and getting all pruney.
We're sharing all the ways you can maximize any bath experience to make it feel like you just walked out of a spa.
Try a floating meditation
Whether you sit and luxuriate in the silence or follow a meditation video on FabFitFunTV, take advantage of the time away from your phone and computer to clear your mind. A bath is a great way to spend time with yourself without any distractions.
Utilize accessories
Yes, you can make your bath experience a lot more comfortable than you'd think! Use a bath pillow to support your head, neck, and back. If you want to enjoy a hot cup of tea or read your favorite book, use a bath tray to hold the essentials.
Add Epsom salt
Is your body feeling sore after a workout? Use bath time to soothe and relieve any stressed muscles with Epsom salts. You can also use scented Epsom salts to add a bit of aromatherapy to your bath.
xx, The FabFitFun Team