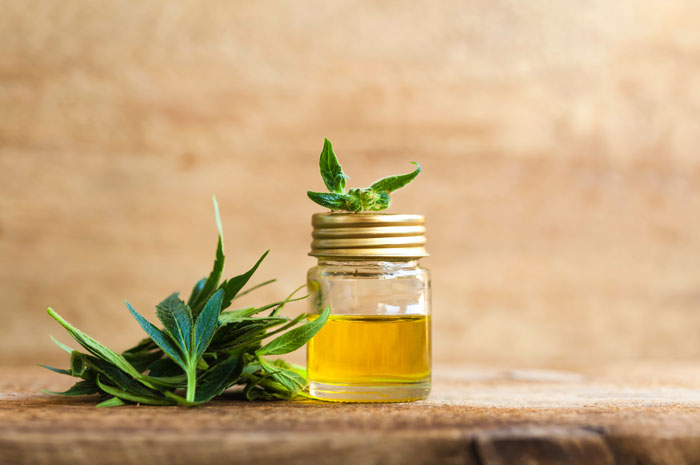 You've probably seen CBD in oils, gummies, beauty products, and even dog treats. But what exactly is CBD and what does it do?
Here's everything you need to know about this popular ingredient.
What is it?                                                                                 
CBD stands for cannabidiol, which is a cannabis compound. While the potential benefits of CBD vary depending on the concentration and use, oils that contain CBD are typically used as a natural pain relief, to reduce anxiety and depression, or treat acne.
How does it work?
"CBD helps your body through an interaction with a central regulatory system called the endocannabinoid system," explains registered nurse Elisabeth Mack. "The endocannabinoid system is key in regulating our physiology, mood, and everyday experience." CBD may also activate the 5-HT1A (hydroxytryptamine) serotonin receptor, which reduces anxiety.
How do you take it?
CBD comes in many forms such as oils, candies and baked goods, or capsules. There are also topical CBD creams that you can rub on sore areas.
Should you try it?
"Researchers say that CBD oil is anti-inflammatory, high in antioxidants, and anti-psychotic," says nutritionist Lisa Hayim. "It is believed to reduce neuroinflammation, oxidative injury, and relieve anxiety." If this sounds appealing to you, consult your doctor with questions to decide if CBD is right for you.
Which products should you try?

Mack recommends these gummies as a daily supplement to help keep you relaxed and focused. It contains natural CBD for anxiety relief and vitamin B12 and D3 for maximum relief.
---
Hayim suggests these capsules because it's trusted to deliver the pure, consistent, and traceable cannabinoids. It's derived from agricultural hemp and helps support a healthy mind-body balance.
---
For a topical treatment, Hayim recommends this balm. It's made with CBD from naturally-grown hemp, and when applied to the skin, it leaves a fresh and cooling sensation.
xx, The FabFitFun Team