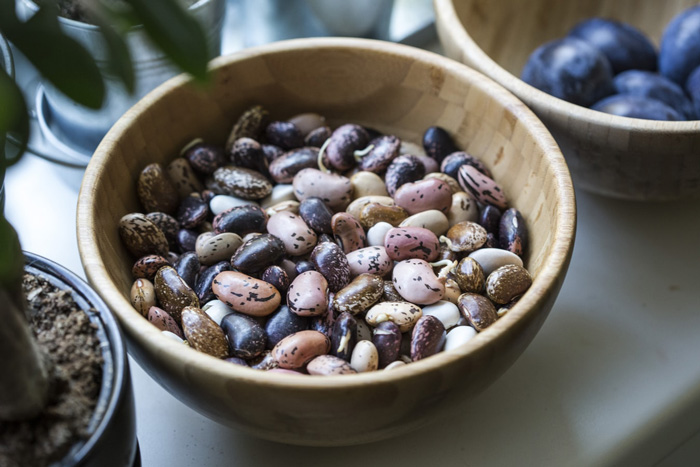 Tired of hearing about kale and quinoa? Or maybe you're totally over the kombucha or oat milk trends. Either way, we talked to a few nutritionists to score a list of their favorite – and most underrated – healthy foods.
Beans
Beans are a great heart-healthy staple. "They're cheap and full of protein, fiber, and many minerals, such as iron, potassium, and magnesium," nutritionist Michaella Mazzoni says. "They don't have any cholesterol or saturated fat either."
Popcorn
Registered dietitian nutritionist Jodi Greebel says that one of her favorite snacks is popcorn. "Air-popped popcorn, or one with minimal ingredients like SkinnyPop, is low in calories and high in fiber. You can eat a larger portion than other comparable salty snacks for the same amount of calories! It's crunchy, tasty, and feels more indulgent than it is while still actually providing nutrients," she says.
Pickled vegetables
Pickled veggies land on nutrition expert Evie Fatz's list of underrated healthy foods and the fermentation is the reason why. "Pickled vegetables undergo fermentation, which helps to improve beneficial gut bacteria," she notes. "A healthy balance in the gut microbiome is the number one factor in successful weight loss."
Corn
Think corn is bad for you? Registered dietitian nutritionist Amanda A. Kostro Miller suggests otherwise. "People tend to think that corn is full of GMOs, but it has lots of fiber and can be really filling. Use corn as your starch for a well-rounded meal with something like broccoli and a lean protein, such as chicken and shrimp."
Bananas
Kostro says it's time to ignore bananas' bad rap too. "Yes, bananas have sugar and is the equivalent of two servings of fruit," she acknowledges. "But you don't have to shy away from bananas! They're full of vitamins and fiber, and can be used as a healthy substitute in baked goods and desserts."
Carrots
Carrots are underrated and can be a satisfying snack to munch on, earning a stamp of approval from Kostro. "Carrots tend to be low in calories and have lots of fiber, so [eat] them to fill yourself up."
Pumpkin
This seasonal superfood deserves more credit than being the key ingredient in a PSL! "Pumpkins have alpha and beta-carotene in the pulp, which aids healthy vision and cell growth. They also have omega-3 fatty acids in the seeds that can benefit people with high blood pressure or high cholesterol," says Abbie Gellman, a member of the Jenny Craig Science Advisory Board.
Cranberries
Another timely and underrated treat, fresh cranberries are primarily available between October and early January and can be great in sweet or savory dishes. Gellman explains, "Cranberries are packed with antioxidants and offer vitamin C and fiber. Plus, they're naturally very low in sugar."
xx, The FabFitFun Team