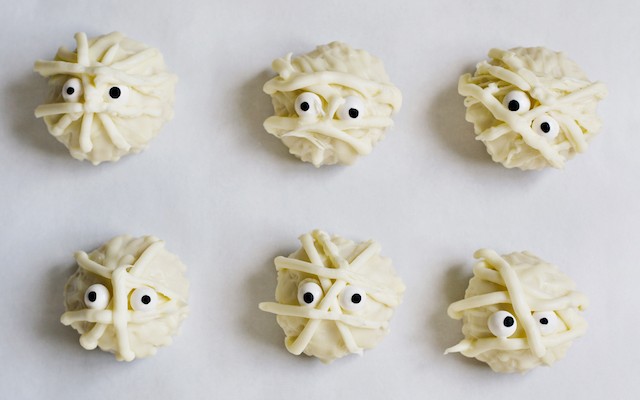 SideChef
Whether you're throwing a costume party, or simply handing out goodies, these Halloween-inspired sweets are the perfect treat! Sure you could serve blood punch and candy corn, but where's the fun in that?! Your friends, kids, neighbors (you name 'em) will not only love how cool these treats look, but they'll also thoroughly enjoy munching on them.
Our friends over at SideChef were kind enough to let us in on some of their tasty Halloween recipes, and we're sharing them with you today! From mummy heads to Halloween bark, you won't be able to stop yourself from devouring these goodies. SideChef's app features step-by-step voice commands and photos for all their recipes, so you can multitask like a boss.
Witch Hat Cookies
Ingredients
12 waffle cones
12 rich tea biscuits
2 cups halloween candy
9 ounces dark chocolate
Green candy melts
1 tube yellow store-bought frosting
Directions
1. Put the rich tea biscuits on a wire rack with a piece of wax paper placed underneath it.
2. Melt the dark chocolate in a double-boiler over a low heat until completely smooth.
3. Dip the rim of the waffle cone in the melted chocolate, making sure to evenly coat.
4. Working quickly, fill the cone with Halloween candy and seal with a biscuit. Place hat on a wire rack to set and repeat one at a time with other cones and biscuits.
5. Coat each of the cones with melted dark chocolate and leave to set for at least one hour.
6. Melt the green candy melts according to product instructions, and place in a disposable piping bag. Snip the end off with a pair of scissors and carefully pipe a band around the hat.
7. Place the yellow store-bought frosting in another disposable piping bag, snipping the end off. Carefully pipe a buckle on the band.
8. Leave the hats to set completely, about one hour.
---
Halloween Chocolate Bark
Ingredients
1 package Oreo cookies
1 cup salted pretzels
9 ounces white chocolate
1 cup candy corn
1 cup assorted candy
⅓ cup candy eyes
Directions
1. Finely chop the white chocolate and melt in a double-boiler over a low heat until smooth.
2. Line a baking tray with wax paper and evenly spread with lightly crushed Oreo cookies.
3. Lightly crush salted pretzels and evenly spread on top of the Oreos.
4. Add candy corn and evenly spread over Oreos and pretzels.
5. Pour melted white chocolate over the dry mixture.
6. Working quickly, spring the top of melted chocolate with assorted candy and candy eyes.
7. Refrigerate until completely hardened, and then cut into uneven shards with a sharp knife.
---
Mummy Cake Truffles
Ingredients
1 classic vanilla cake
½ cup classic buttercream
17 ounces white chocolate
24 candy eyes
Directions
1. In a bowl, break up the classic vanilla cake into crumbs.
2. Add the classic buttercream and mix until combined.
3. Roll mixture into 12 equal size balls and refrigerate for 30 minutes.
4. Chop the white chocolate and melt in a double-boiler over a low heat, until completely smooth.
5. Remove cake balls from the refrigerator.
6. Let the chocolate cool for a few minutes before you begin dipping the cake balls.
7. Completely cover each cake ball with white chocolate.
8. Place the dipped cake truffles on a wire rack over a piece of baking paper, and allow to harden for a few minutes.
9. Dip each truffle again and allow to harden for a further few minutes.
10. Dip for the third and final time, and allow to harden in the refrigerator for 30 minutes.
11. Add remaining melted chocolate to a piping bag. Remove cake truffles from refrigerator and begin piping "bandages" across the tops of each, and stick two candy eyes on each cake truffle.
12. Allow cake truffles to set and harden for a further 30 minutes before serving.
xx, The FabFitFun Team