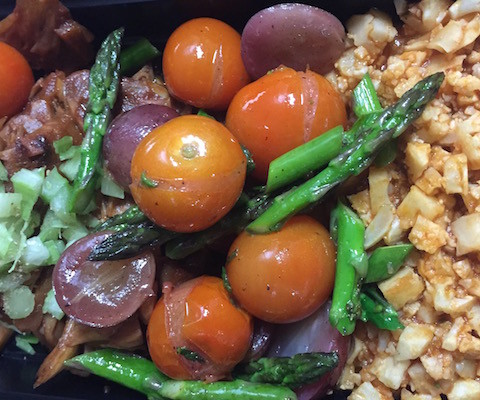 Cooking vegetables of your choice can seem a little redundant after a while. If you're like us and are looking for new innovative ways to spice up your fave veggie dishes, then look no further!
We spoke with Chef Dave Fults, owner of Knife and Fig, and private chef to musicians, A-list celebrities and professional athletes. Oh, and he just so happens to be an expert at making vegetables taste incredible! He explained how different cooking methods used on different vegetables (i.e. smoking, sautéing, and baking) can compliment different flavors, and make a vegetarian dish taste eccentric and pleasantly satisfying.
For more from Chef Dave, check him out on Instagram!
Vegetarian Dish
Ingredients
2 tablespoons coconut oil
1 cup shaved jackfruit
1 cup grated cauliflower rice
10 large grapes halved and seeded
6 cherry tomatoes
2 asparagus stalks
BBQ sauce of your choice
Directions
1. In a small bowl add jackfruit and a dash of your favorite BBQ sauce or seasoning. Set aside.
2. In a medium sauce pan on medium high heat, add coconut oil and grated cauliflower. (The more coconut oil you add, the more rich in caramel color your cauliflower will get, which equals more flavor!)
4. If you have a smoker, smoke the grapes for 15 mins. The smoke flavor will bring out a lot of the grapes' natural sugars — this will compliment the tartness of the tomatoes.
5.  On a sheet tray, arrange asparagus and tomatoes. Place tray in oven set at 350 degrees for about 10 mins or until the asparagus is to desired crunch.
6. Plate and serve!
xx, The FabFitFun Team