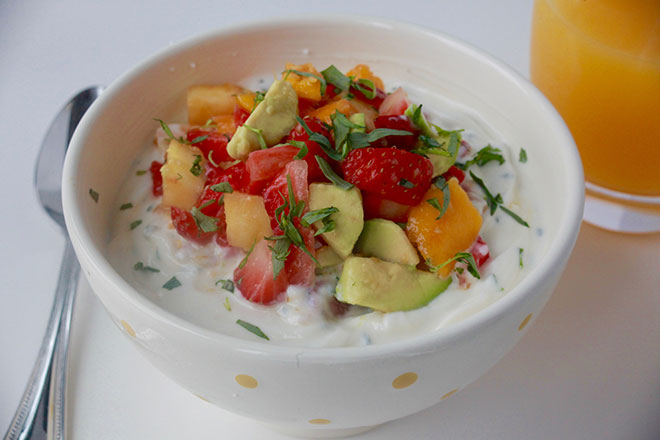 Spring is upon us and I could not be happier! New beginnings are on everyone's mind as the landscape comes back to life and it is time to open the windows. People begin to "spring clean" their spaces and add flowers. While we are hitting the "refresh" button we might as well include our food, too! Farmers market season is slowly approaching and so are our summer clothes. Let's spring clean our diets as well as our closets with the addition of foods that inspire us to spring forward! This recipe for tarragon and honey yogurt is great for the morning or for a protein filled snack. What makes it even better is topping it with the fresh fruit and avocados!
Ingredients:
½ cup plain greek yogurt
1 teaspoon honey
1 teaspoon fresh tarragon, chopped
1 tablespoon freshly squeezed orange juice
¼ cup mango chopped into bite size pieces
¼ cup pineapple chopped into bite size pieces
½ cup sliced strawberries
½ cup avocado chopped into bite size pieces
1/3 teaspoon of honey (just a little squeeze)
Directions:
In a medium size mixing bowl, combine all the chopped fruit and avocado along with the squeeze of honey.
In another bowl combine the greek yogurt, honey, tarragon, and orange juice. Mix to incorporate all ingredients. Top the yogurt with the fruit and avocado mix, and enjoy! If you want to save it for later store the yogurt mixture and the fruit separately!
For the latest and greatest info on dating and relationships, be sure to check out DishItGirl.com!
---
This story was written by a fab member of our Ambassador Network.