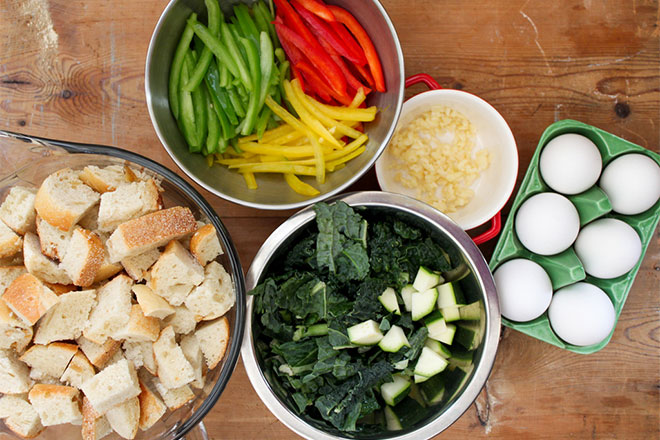 Is your fridge in need of a purge? Whether you're headed off on vay-k or need to use your leftover ingredients before they expire, try one of these delicious dishes. From a cheesy spread to an amazing frittata, you'll never have to worry about your fruits and veggies going bad again. 
Fridge Clearing Avocado Soup
The name says it all. This recipe takes your avocados, tomatoes, yogurt, and milk and turns them into a delicious, green soup. So long, overripe avocados!
---
Leftover Fruits Smoothie
Fruit is always the first to go bad out of all your groceries, so what happens when they're on the verge of molding? Throw your them into a blender and make an unforgettable smoothie. Try this uh-mazing combination of strawberries, mangos, and blueberries.
---
Frittata for Leftovers
Egg lovers rejoice! This easy recipe will be your new breakfast staple. Raid your fridge and use up those eggs, potatoes, veggies, and bacon to create this delicious dish.
---
Pasta with Peas, Asparagus, Butter Lettuce, and Prosciutto
We somehow always end up with leftover veggies but no more wilted lettuce for you! Grab your remaining veggies and whip up this healthy pasta. Not only does it taste uh-mazing, but it's also deceivingly simple to make.
---
Clear the Fridge Bread Pudding
Gather the necessary bread, eggs, milk, and cheese, then throw in any veggies and meats sitting in your fridge. This recipe is great for vacation goers who don't want to be greeted with rotten groceries upon their return.
---
Fromage Fort
Do you have an abundance of cheese? Well, this is just another food item you can easily get rid of! Combine and conquer with a new appetizer that will have your friends swooning. This spread tastes great with veggies, bread, meat, and crackers.
xx, The FabFitFun Team