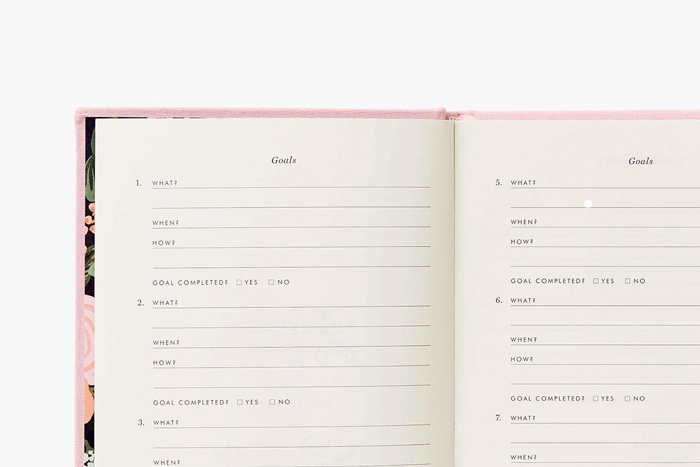 Feature Image by Rifle Paper Co.
If you're looking to become more organized and improve your mental health, give journaling a try. These journals are like diaries and planners combined; they can track everything from helping you find gratitude to increasing productivity levels.
Ahead, pick out a design and layout that works for you from our top picks and start writing.
Each month, the journals have a different theme to help you focus on different areas in your life. No matter the theme, you can still keep track of everything from your to-do list, mood, and water intake.
---
If you want to be laser-focused on your goals, this is the journal for you. It helps you break down your goals into easy steps for you to accomplish but also leaves plenty of room for reflection and brainstorm.
---
This planner focuses not just on lists, but the reasons and influences behind your goals because that can help keep you on the right path. Plus, there's space for weekly and monthly to-do lists, habit tracking, and a sticker sheet to personalize your journal.
---
Working on incorporating more gratitude in your life? Start writing in this journal. It has blank pages for each day for a free-form experience and monthly pages with questions and prompts to help you reflect.
---
Journaling fans will love this set that keeps you writing for five years! There are dedicated pages to write down all the big and little celebrations as well as pages for you to plan out your goals for the year.
---
Sometimes it can be hard to see all the beautiful things amidst the monotony of everyday life. This journal will help you slow down and take a look around to see all the things to be grateful for.
---
This journal records just about everything. You'll be able to plan meals, set daily tasks, monitor sleep, and plan your self-care days. There are also check-in pages that help you reflect and access your progress with your body, mind, gratitude, and goals.
---
Practicing gratitude can be hard, but this journal makes it super easy. In the morning you set goals and think about what's ahead of you and in the evening, you reflect on the day's thoughts, feelings, and actions.
---
Daily gratitude reflections plus plenty of space for planning out your day make this a journal that will change your entire year. You may like it so much that you'll want another one for next year!
---
Looking at a year or even each month can be overwhelming. The prompts in this journal help you break down your goals, thoughts, and feelings for each day so everything is more manageable.
xx, The FabFitFun Team