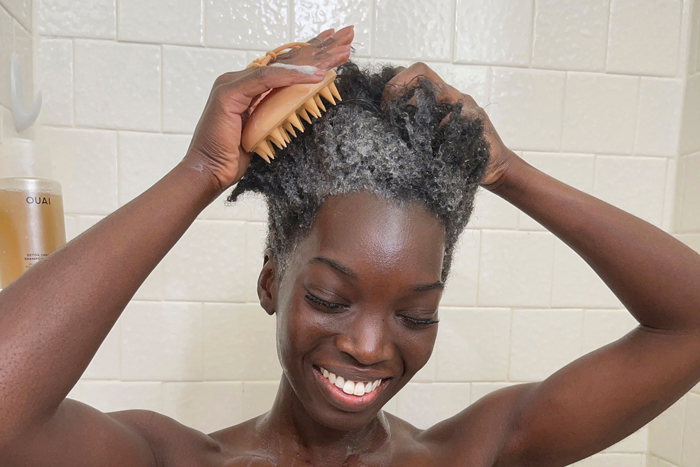 Scalp massagers are undoubtedly having a moment, especially while savvy beauty enthusiasts continue to embrace DIY treatments amid the pandemic. We've seen people rave about the hair care tool on social media, namely for the tool's ability to stimulate hair growth and thicken strands.
But as simple as the hair care tool sounds, in theory, it's not exactly self-explanatory. If you're wondering how to use a scalp massager to deep clean your hair, you're in the right place!
What are the benefits?
Diana Pratasiewicz, Director of Education at OUAI, shares that when paired with a clarifying shampoo, like the OUAI Detox Shampoo, scalp massagers can significantly benefit your hair's health. She says that the Detox Shampoo "helps remove build-up while the massager sloughs it away." The result? A deeply cleansing treatment can help eliminate dead skin cells and other grime that potentially clogs your hair follicle and prevents it from growing to its fullest, thickest potential.
Ahead, Pratasiewicz walks us through the steps of using the Detox Shampoo with the Scalp Massager. Keep in mind that all hair types can benefit from a good in-shower scalp massage!
How do you use it?
While in the shower, wet your hair from roots to ends. When your hair is completely saturated, squeeze hair to remove excess water before squeezing a quarter-size dollop of the Detox Shampoo onto your hands or the Scalp Massager. No matter which method you choose, the next step is to work the shampoo into, as Pratasiewicz puts it, "[all] areas where the hair touches the scalp." That includes your roots and behind your ears, as well as the back of your head and neck.
Now comes the part in which using the Scalp Massager is essential. Using the tool, massage the shampoo into your scalp and strands, focusing on the top of your head. "The Scalp Massager will help rinse the Detox Shampoo out of the hair while detangling and prepping hair for a conditioner or hair mask," explains Pratasiewicz.
Next, let the product sit for one to three minutes before washing it out thoroughly. Then, set aside your shampoo and work a quarter-size amount of your favorite conditioner or mask into your mid-lengths and ends. Finish by washing it out.
xx, The FabFitFun Team
Psst! Have you signed up for FabFitFun yet? Don't miss out on seasonal boxes filled with the best products in beauty, fitness, and lifestyle, member-exclusive sales, an amazing Community of like-minded women, and more. Use code CELEBRATE at checkout for 20% off your first box.
To get the most out of your box products, make sure to check out the Members Only page.