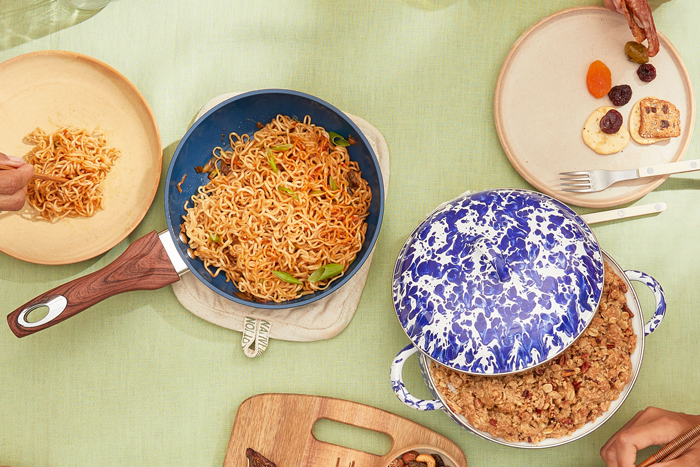 After all the time we've spent sprucing up our homes, it's time to invite our loved ones over to show off our space! Here are some fall recipes you can whip up for your lovely guests or potlucks.

Spicy Noodles
Recipe by Phantom Chef
Servings: 4-6
Ingredients
1 pack udon or ramen, cooked
2 tablespoons olive oil
A bunch of scallions, thinly sliced, with white and green parts, separated
5 garlic cloves, minced
2 tablespoons ginger, grated
4-5 tablespoons soy sauce
1 tablespoon mirin
1 tablespoon rice vinegar
2 tablespoons sesame oil
1-2 tablespoons chili paste (optional)
Directions
In your Phantom Chef Fry Pan over medium-high heat, heat the olive oil. Add the scallions, garlic, and ginger. Stir for 1-2 minutes, then add the soy sauce, mirin, rice vinegar, and sesame oil. Saute for about 1 minute.
Add cooked noodles. Stir and add remaining scallions. Plate in a bowl and season with sesame seeds. Serve immediately.
---

Gluten-Free Warm Apple Crumble
Recipe by Brandi Chang @brandichang
Servings: 6-8
Ingredients
Filling:
6 large apples, peeled, cored, and sliced
1 lemon
½ cup coconut sugar
1 tablespoon maple syrup
2 teaspoons ground cinnamon
½ teaspoon ground nutmeg
¼ cup vegan butter
1 teaspoon vanilla extract
½ cup dried cranberries
Crumble Topping:
¾ cup all-purpose gluten-free flour
¾ cup old fashioned gluten-free oats
½ cup coconut sugar
½ cup pecans, chopped
1 teaspoon ground cinnamon
¼ teaspoon ground nutmeg
½ cup cold vegan butter, cubed
Pinch of salt
Directions
Heat the oven to 350 F.
Filling: Place the sliced apples into a medium-sized mixing bowl and lightly dress them with lemon juice. Add coconut sugar, maple syrup, 1 teaspoon ground cinnamon, and ¼ teaspoon ground nutmeg. Toss to evenly coat.
In your Golden Rabbit Cobalt Swirl Small Dutch Oven on the stovetop, melt the vegan butter over medium-high heat. Add vanilla extract, 1 teaspoon ground cinnamon, and ¼ teaspoon ground nutmeg. Stir and cook for about 2 minutes. Add the prepared apples and gently stir to coat them evenly. Add cranberries and cook for about 6 minutes, or until the apples are tender. Carefully stir occasionally.
Crumble Topping: In a separate mixing bowl, add gluten-free flour, gluten-free oats, coconut sugar, chopped pecans, ground cinnamon, ground nutmeg, and salt. Mix together.
Add in cold, cubed vegan butter, and incorporate into the mixture by breaking them into small pieces using your hands.
In the dutch oven, sprinkle the crumble on top of the now-tender apples and bake in the oven with the top off for 30 minutes, or until the top is golden. Serve à la mode with a scoop of dairy-free vanilla ice cream or coconut whip.
xx, The FabFitFun Team
Psst! Have you signed up for FabFitFun yet? Don't miss out on seasonal boxes filled with the best products in beauty, fitness, and lifestyle, member-exclusive sales, and more. Use code GOODIESGALORE at checkout for 20% off your first box.
To get the most out of your box products, make sure to check out the Members Only page.